Mailed explosives 'an act of terror' - NYC Mayor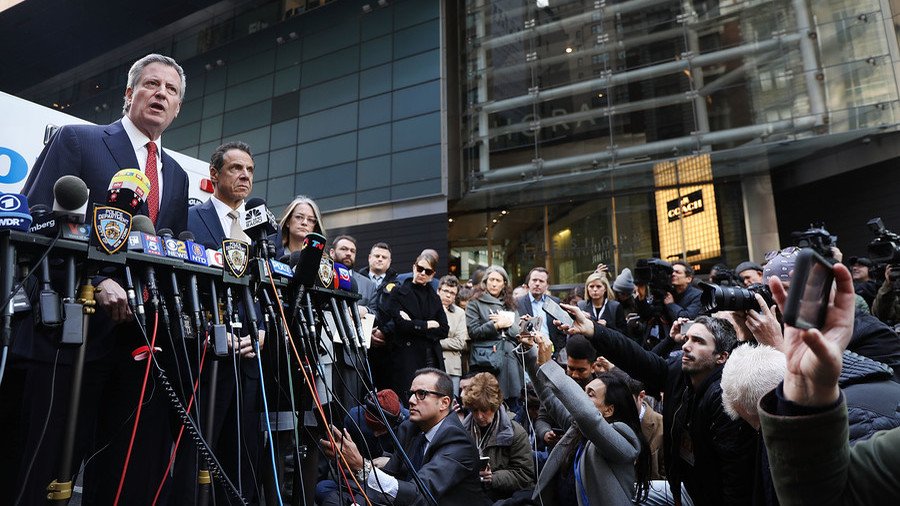 New York City Mayor Bill de Blasio has said a series of mail bombs sent to prominent Democratic figures, including Bill and Hillary Clinton is "clearly an act of terror."
Shortly after De Blasio condemned the attempted attack, New York Governor Andrew Cuomo said that a suspicious package had also been sent to his office, while Capitol police are reportedly investigating another package found in a Congressional mail facility in Maryland.
JUST IN: New York Gov. Cuomo: "A device has been sent to my office in Manhattan, which we were just informed about. And that device ... has been identified and is being handled as we speak."pic.twitter.com/BsJwrISqEx

— Breaking911 (@Breaking911) October 24, 2018
Earlier on, explosive devices were mailed to former President Barack Obama, the Clintons' home in upstate New York, and to the Time Warner Center in New York City, which houses the CNN newsroom.
Additional reports of suspicious packages have seen evacuations take place at the offices of Florida Congresswoman Debbie Wasserman Schultz, California Senator Kamala Harris, and the San Diego Union-Tribune newspaper.
Speaking about the package sent to CNN, De Blasio said that the incident was an attempt "to undermine our free press and leaders of our country through acts of violence."
New York's police commissioner said that the package sent to CNN contained a live explosive and an envelope of white powder.
READ MORE: Mailbomb blitz: Packages sent to Obama, Soros, CNN, Clintons & others
The White House condemned the "attempted violent attacks" against public figures, and Vice President Mike Pence called the attempted attacks "despicable." President Trump did not issue his own statement, but retweeted Pence's message, adding "I agree wholeheartedly!"
The mailbomb blitz comes days after an explosive device was found in the mailbox of billionaire liberal donor George Soros' home in Westchester County, New York.
Law enforcement sources told the Washington Post that they believe Wednesday's packages are the work of the same person who targeted Soros on Monday. The same sources told the Post that the bombs sent to Soros, Obama and the Clintons were all live pipe bombs placed inside plain brown envelopes with the addresses printed on stickers.
The bomber seems to have exclusively targeted figures from the Democratic party, and in Soros' case, their supporters.
Think your friends would be interested? Share this story!
You can share this story on social media: