#MeToo's Alyssa Milano accused of hypocrisy over links to 'Sharia law-supporting' Muslim activist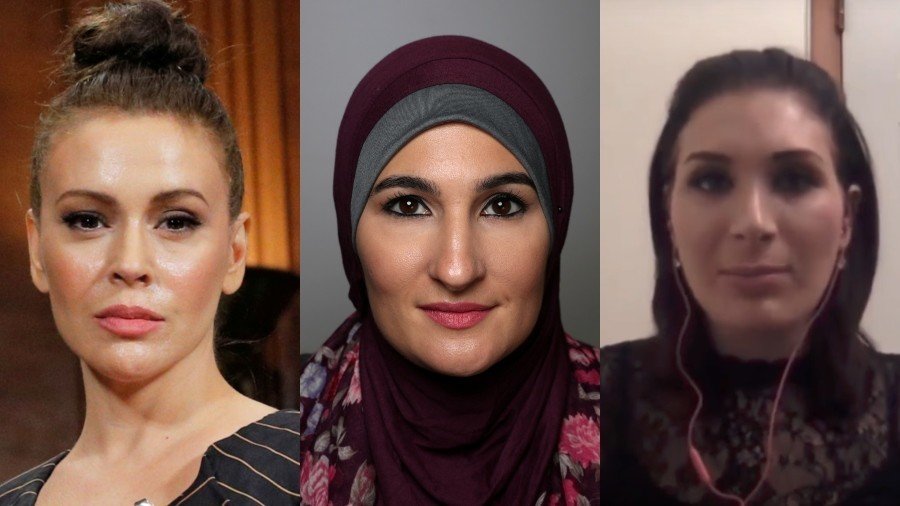 Actress Alyssa Milano has been asked to disavow her friend and fellow #MeToo movement supporter Linda Sarsour, a controversial Muslim women's rights activist who has been accused of antisemitism and support for Sharia law.
Speaking on a panel at the Politicon conference in Los Angeles, Milano was confronted by conservative journalist Laura Loomer over her friendship with Sarsour.
READ MORE: 'Double standard bullsh*t': #MeToo icon Alyssa Milano hates Kavanaugh... but 'loves' Bill Clinton?
"You are friends with Linda Sarsour, both of you ladies have positioned yourselves as speakers and representatives of the #MeToo movement," Loomer asked Milano.
"I want to ask you right now to disavow Linda Sarsour because she is a supporter of Sharia law. And under Sharia law, women are oppressed, women are forced to wear a hijab. My question is, will you please disavow her because she is advocating for Sharia law."
Milano didn't seem very interested in either disavowing Sarsour or answering the question — and as Loomer was immediately confronted by two women who attempted to usher her out of the room, the actress responded to say simply that Sarsour is "not" an advocate of Sharia law and thanked Loomer for the question.
As Loomer exited the room, Milano spoke up to say that if people "don't know how to talk to one another we'll never evolve." When Loomer shot back to say she had just asked "a polite question," Milano complained that the question had been asked in a "very distinct tone" which seemingly precluded her from giving an answer.
Sarsour, a former executive director of the Arab American Association of New York and one of the leaders of the Women's March, has made statements in the past which seem to support the idea of Sharia, or Islamic law.
In 2014, the Palestinian-American activist said that Saudi Arabia's maternity leave policies puts the US "to shame" in a tweet that seemed to imply that a Saudi ban on women being allowed to drive was not really an important issue in comparison.
"You'll know when you're living under Sharia Law if suddenly all your loans and credit cards become interest free. Sounds nice, doesn't it?" she tweeted in 2015.
Claims of Sarsour's anti-Semitism appear to stem from her links to Louis Farrakhan, the highly controversial leader of the Nation of Islam, who lost his 'verified' status on Twitter earlier this year after posting a link to a speech in which he claimed to be "unmasking the Satanic Jew and the Synagogue of Satan".
Farrakhan has also made numerous anti-white comments, including saying white people "deserve to die," and came out against interracial marriage, arguing that "you can't integrate with wickedness if you want righteousness." Sarsour spoke at a 2015 rally organized by Farrakhan.
READ MORE: Alyssa Milano's dress at Kavanaugh hearing sparks Twitter firestorm as trolls take aim at her outfit
In 2017, singer Courtney Love tweeted that she wouldn't support anything that is "being led by an anti-Semetic (sic) terrorist" who is "using feminism as a tool to promote her radicalism." She also tweeted directly to Sarsour, calling her a "vile disgrace to women and all mankind."
Milano's refusal to answer the legitimate question about Sarsour's past comments –whatever its tone– leaves a lingering question; why she is all about women's equality and safety in Hollywood, but isn't prepared to condemn those who appear to support oppression of women in other countries?
Think your friends would be interested? Share this story!
You can share this story on social media: