Alyssa Milano's dress at Kavanaugh hearing sparks Twitter firestorm as trolls take aim at her outfit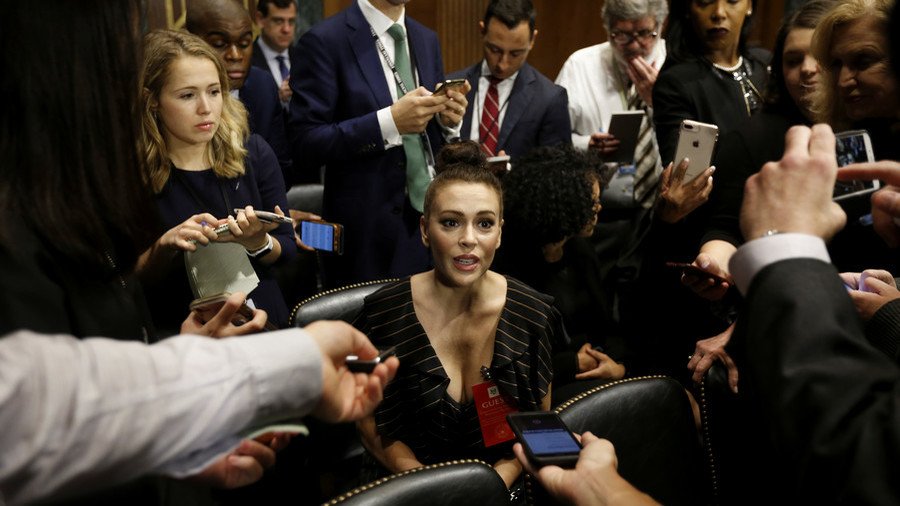 Alyssa Milano, actress and #MeToo crusader, hit Washington to support Christine Blasey Ford testifying against Supreme Court justice nominee Brett Kavanaugh. But it was her attire which gained most attention on social media.
The Charmed star was slammed online for her choice of outfit whilst attending Thursday's Senate Judiciary Committee hearing. Twitter saw red over the fact Milano chose to wear black, with one user tweeting: "…lets [sic] have the hypocritical black dress brigade tell us how victimized they are," to the actress.
Others took umbrage with the cut of her black pinstripe number, with many on social media taking aim at her cleavage. "How disrespectful with that cleavage hanging out", one said. Another angry-sounding Twitter user, using the username 'Fox News Fan', urged the internet not to "forget her 'bought' cleavage" that was on show.
While one netizen accused Milano of "looking for someone to accuse of leering" at her breasts.
Some conservative trolls took aim at Milano's anti-Trump stance… by photoshopping her head onto a Republican voter.
Much of the fury aimed at Milano was directed at her in response to videos she posted on Twitter. The footage was recorded during the hearing - which is not allowed, and led to Milano having her phone confiscated by security. Again, how she looked was an easy target for internet trolls. "Loosen the bun honey and sale (sic) fake hysteria somewhere else cause we aren't buying it."
Others came to the defence of the Hollywood star, calling out those on the web determined to dress-down the actress over her choice of clothes.
"If you're going to attack @Alyssa_Milano for her OUTFIT, you're part of the problem," Twitter user Rob Browatzke said, with another echoing the sentiment by replying to a troll slamming the actress for her dress choice. "Yikes. You didn't just tweet about what a woman was wearing while a man is being accused of sexual assault?"
Other supporters didn't bring up her clothes at all. Instead, they chose to reference her iconic role as witch Phoebe Halliwell in the hit TV series Charmed. Fellow actor George Takei kept it simple: "Oh, if only you could cast a real spell, Alyssa."
Like this story? Share it with a friend!
You can share this story on social media: