US senators cry foul over Riyadh's 'insulting' Khashoggi story, say crown prince involved in death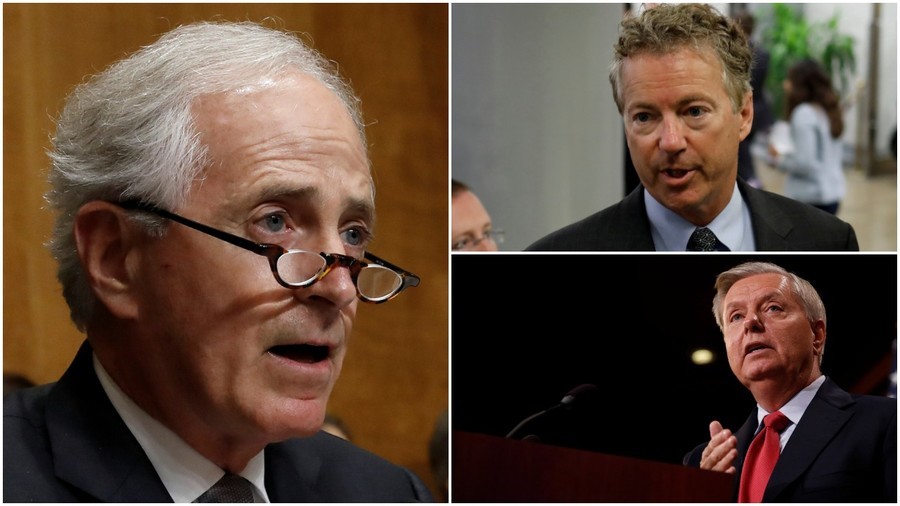 US senators are speaking out against Saudi Arabia's account of what happened to journalist Jamal Khashoggi, saying they believe the crown prince is responsible and calling Riyadh's version of events "insulting."
Speaking to CNN's "State of the Union" program on Sunday, Sen. Bob Corker (R-TN) didn't hold back in saying who he believes is behind the Washington Post journalist's death – Saudi Crown Prince Mohammed bin Salman.
"Do I think he did it? Yes, I think he did it," Corker said.
READ MORE: Europe finds Riyadh's Khashoggi death story 'inadequate', Berlin talks arms sale freeze
"If he's gone forth and murdered his journalist, he's now crossed the line and there has to be a punishment and a price paid for that," he continued, adding that he would like to see a "collective" response from Western countries if his hunch turns out to be true.
Meanwhile, Sen. Rand Paul (R-KY) is far from believing Riyadh's claim that Khashoggi died in a "fistfight" in the Saudi embassy in Istanbul and that the crown prince had nothing to do with it.
"It's insulting to anyone who's analyzing this with any kind of intelligent background to think that a fistfight led to a dismemberment with a bone saw," he told Fox News Sunday.
The senators' comments come after their colleague Sen. Lindsey Graham (R-SC) said last week that the Saudi crown prince "had this guy murdered."
"Nothing happens in Saudi Arabia without MbS [Crown Prince Mohammed bin Salman] knowing it," he said in an interview with Fox News.
"I've been their biggest defender on the floor of the United States Senate," Graham said. "This guy is a wrecking ball. He had this guy murdered in a consulate in Turkey and to expect me to ignore it. I feel used and abused."
Days later, Graham also took to Twitter to express his skepticism. "To say that I am skeptical of the new Saudi narrative about Mr. Khashoggi is an understatement," he wrote.
US President Donald Trump stated on Saturday that he is also dissatisfied with the information that has been provided by Saudi Arabia, after initially having cut Riyadh a bit more slack. However, he still seems unwilling to scrap the $450 billion arms deal between the two countries, previously saying that it would be "very hurtful" to the US if it was canceled, citing the money and jobs it is bringing to the country.
Across the pond, European countries are equally speaking out, with the European Union, Germany, and France all calling for an in-depth probe into the death of the Washington Post journalist on Saturday. German Foreign Minister Heiko Maas also stated that Berlin should not approve arms sales to Saudi Arabia until investigations are completed.
Khashoggi, who was a vocal critic of the Saudi royal family, was last seen when he entered the Saudi consulate in Istanbul on October 2 to get documents for his upcoming marriage. Turkey has claimed that a Saudi assassination squad killed him, while Riyadh said he died in a "fistfight" but has since stated that it doesn't know what happened to him or where his body is.
Like this story? Share it with a friend!