Europe finds Riyadh's Khashoggi death story 'inadequate', Berlin talks arms sale freeze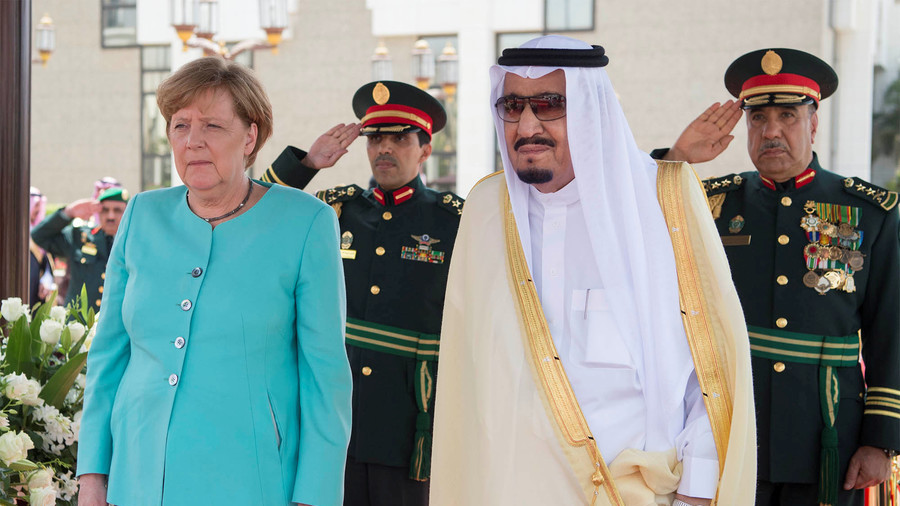 Not satisfied with the Saudi story on how journalist Jamal Khashoggi died in Turkey, EU leaders are demanding an in-depth probe, with Germany's foreign minister saying that Berlin shouldn't sell arms to Riyadh until it's finished.
Germany, France, and the EU all said they want more from Saudi Arabia on Saturday, demanding a full investigation and "accountability" over Khashoggi's death.
French Foreign Minister Jean-Yves Le Drian said Paris "condemns this murder in the strongest terms." He noted that while Riyadh's Friday night admission of the journalist's death is the "first step toward the establishment of truth," many questions still remain.
UK Brexit Minister Dominic Raab told reporters on Sunday that he doesn't find the Saudi version of how the events unfolded "credible" and voiced support for the ongoing Turkish probe into the incident.
"The information available about events in the Istanbul consulate is inadequate," said a joint statement of German Chancellor Angela Merkel and Foreign Minister Heiko Maas. They expect transparency and more answers from Riyadh about the circumstances surrounding the suspicious death, widely painted in media reports as a gruesome murder.
Maas stated separately that Berlin should not approve arms sales to Saudi Arabia until investigations into Khashoggi's death are completed.
"So long as investigations are underway, so long as we don't know what happened there, there is no reason to take positive decisions on arms exports to Saudi Arabia," he told German public television's Tagesthemen program.
The remarks from Europe came after Riyadh finally stated on Saturday, ending two weeks of denials, that Khashoggi was killed in a "fistfight" that occurred at the Saudi consulate in Istanbul, while providing no evidence. Authorities also announced the detention of 18 suspects in the case.
But while Europe remains skeptical and insistent on clear answers, US President Donald Trump seemed somewhat satisfied with Riyadh's confession on Saturday, once again calling the kingdom a "great ally." He did admit, however, that "some questions" remain and that he will be working with Congress on how to proceed to address the issue.
READ MORE: 'Not satisfied' after all? Trump wants more answers, but won't scrap Saudi deals over Khashoggi case
Trump has repeatedly stated that the US hopes to keep its $450 billion arms deal with Riyadh, citing the money and jobs it is bringing to the US. He said on Friday that it would be "very hurtful" to the US if it was dropped, and previously said there were other ways of "punishing" Saudi Arabia if it were found to be behind Khashoggi's death.
Khashoggi was last seen on October 2 when he entered the Saudi consulate in Istanbul to obtain documents for his forthcoming marriage. Turkey was quick to state that it had evidence that he was murdered inside the building, though Riyadh had adamantly denied that claim until Saturday. The case prompted a global backlash against Saudi Arabia, from governments to media organizations and business figures including Richard Branson and Uber CEO Dara Khosrowshahi.
If you like this story, share it with a friend!