'Migrant sodomizer, rot in grave': Outrage over 9/11 widow abused by NYPD-hating 'liberal' (VIDEO)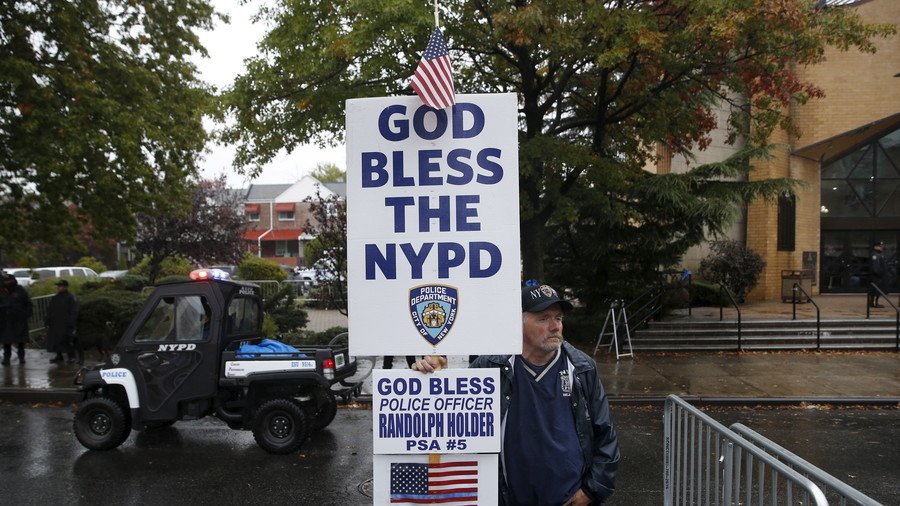 Twitter has erupted over a video showing an Antifa protester telling a 9/11 widow in an NYPD hat that her husband should "rot in the grave." The abuse happened in Portland, Oregon, when left-wingers clashed with pro-Trump groups.
The video, which has been doing the rounds on Twitter for the past few days, shows the Antifa protester picking a fight with a woman at a crosswalk. "Why are you trying to block me? I'm f**king trying to walk here," he tells the woman, who is wearing a USA t-shirt and an NYPD hat.
When he continues with the abuse, the woman dares him to "try something, bitch." In response, he says he "wasn't like her husband" and therefore wasn't going to punch her.
She quickly informed the man that her husband died in the 9/11 terrorist attacks, pointing to her NYPD hat. The man apparently took that as an invitation to go on a belligerent rant about the New York Police Department, saying they "sodomized immigrants with their bully sticks."
"Your husband should rot in the grave," he concluded, before running away at full speed when confronted by the woman's rather muscular and imposing son.
Twitter users are more than a little angry over the matter, with people from both sides of the aisle chiming in to condemn the "coward."
Some are on a campaign to try to find out who the person is, and publicize his name.
Another took aim at Portland, calling the liberal city a "pit of intolerance and bullying fascists."
Others said that while Antifa claims to be "anti-fascist," they are just the opposite.
Meanwhile, some conservatives took a moment to point out that such people are why "common sense people" vote Republican.
The video appears to have been filmed on October 13, when the right-wing Patriot Prayer group took to Portland to rally for the ouster of the city's mayor. Mass brawls between conservatives and Antifa protesters later ensued, prompting police to intervene and deploy pepper spray.
Like this story? Share it with a friend!
You can share this story on social media: