Not buying it: Lawmakers & journalists skeptical of Saudi story about Khashoggi death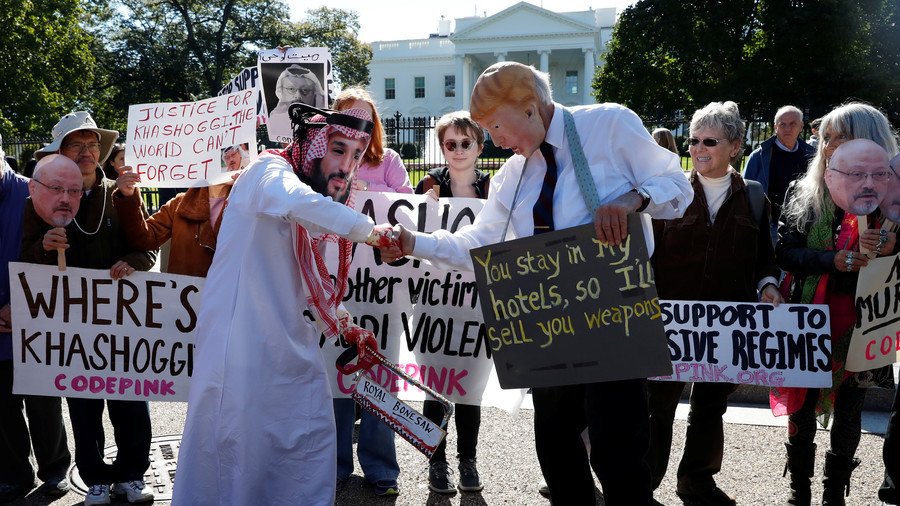 Multiple US lawmakers, journalists and pundits voiced their disbelief in the official Saudi account of journalist Jamal Khashoggi's death, calling it spin and a cover-up. Some even blamed US President Donald Trump.
Khashoggi, 59, was last seen entering the Saudi consulate in Istanbul, Turkey on October 2. For two weeks, Saudi Arabia denied Turkish accusations that a team of assassins killed him inside and dismembered his body. On Saturday, the Saudis announced Khashoggi died in a "fistfight" inside the consulate, and that 18 people have been arrested in connection with the incident.
READ MORE: Saudi Arabia says Khashoggi died in accidental 'fistfight' inside the consulate
"To say that I am skeptical of the new Saudi narrative about Mr. Khashoggi is an understatement," tweeted Senator Lindsey Graham (R-South Carolina).
Karen Attiah, Washington Post's editor, seemed to be frustrated and pissed over the Saudi account of a member of their staff's death, calling the preliminary version of the investigation"utter bullsh*t."
"Khashoggi was a 60-year-old man. What sort of equal 'fight' would he have had against 15 other men? And who brings a bone saw to a 'discussion?!' The stupidity of the Saudi explanation is mind-boggling," Attiah said on Twitter.
"He was a journalist. Not freaking Bruce Lee," tweeted journalist Xeni Jardin.
Congressman Ted Lieu (D-California) called the story "ridiculous on its face" and brought up a claim by unnamed Turkish officials that Khashoggi had been cut up by a bone saw.
Maggie Haberman of the New York Times also wondered about the bone saw.
Times columnist Nicholas Kristof called the official story a "cover-up" that aims to "obfuscate and protect the Mad Prince" - meaning Crown Prince Mohammed bin Salman - "by pinning this murder on fall guys."
"MBS needs to work on his cover story. This one won't hunt," quipped Kristof's fellow neoconservative and Washington Post columnist Max Boot.
Comedian and political activist Dean Obeidallah blamed Trump - or rather, his Secretary of State Mike Pompeo and adviser-son-in-law Jared Kushner.
The official story is not a cover-up or attempt to blame "rogue killers" - as Trump put it several days ago - but implicates high-level intelligence officials, argued Ali Shihabi, head of the Arabia Foundation in Washington, DC.
Meanwhile, Prince bin Salman has been put in charge of a Saudi committee tasked with overhauling the country's General Intelligence Directorate. The agency's deputy director and bin Salman adviser, General Ahmed bin Hassan bin Mohammed Asiri, has been sacked over the Khashoggi affair.
Think your friends would be interested? Share this story!
You can share this story on social media: