Bolton and Kelly exchange profanities outside Oval Office over immigration policy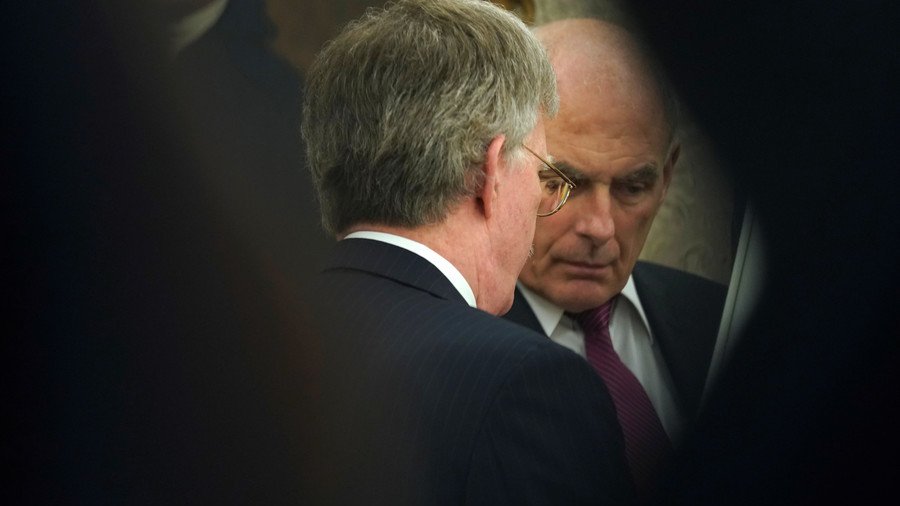 A heated, obscenity-filled exchange over immigration between the chief of staff John Kelly and national security adviser John Bolton has shocked the aides in the West Wing, sparking fears of possible White House reshuffling.
Two of President Donald Trump's top aides were not shy to express their opinion about the progress made to stop illegal immigration into the US. Sparring just outside the Oval Office, Kelly reportedly tried to defend the performance of his protege, Homeland Security Secretary Kirstjen Nielsen, who has allowed a record number of immigrants into the country. In the extremely loud, profanity-laced verbal fight that unfolded in front of multiple witnesses, Bolton attacked the Department of Homeland Security (DHS) for failing to implement Trump's immigration policy – according to reports by Bloomberg, CNN and Washington Examiner citing anonymous sources inside the White House.
Trump, who earlier in the day threatened to shut down the border with Mexico, reportedly sided with Bolton's argument. While Bloomberg and CNN sources noted fears of a possible resignation from one of the two men following the fight, the Examiner referenced three sources to say that both men will stay in the White House.
The commander in chief and the White House downplayed the incident, with just weeks to go before the mid-term elections next month and news of another migrant caravan headed towards the US through Mexico.
"I've not heard about it. No," Trump told reporters Thursday afternoon when asked about the fight, before departing to Montana for a campaign rally.
"While we are passionate about solving the issue of illegal immigration, we are not angry at one another," said White House spokeswoman Sarah Huckabee Sanders.
Sarah Huckabee Sanders gives a statement on Bloomberg scoop about shouting match between Kelly and Bolton:"While we are passionate about solving the issue of illegal immigration, we are not angry at one another."She goes on to blame Dems for not helping address immigration.

— Jennifer Jacobs (@JenniferJJacobs) October 18, 2018
A "zero tolerance" policy on border control has become the cornerstone of Trump's domestic political agenda, but sparked a mass public outrage after thousands of migrant families were separated at the border. According to most recent DHS statistics, a total of 16,658 family members were arrested at the southern border last month, becoming the highest one-month total on record. The new numbers, which marked an 80 percent increase from July, are making the US president highly critical of DHS and Nielsen's tactics, senior administration officials told Washington Post on Wednesday.
After recently turning his attention to the "caravan" of migrants making their way from Latin American countries to the US, Trump tweeted Thursday just before his two top aides got into an argument.
"I must, in the strongest of terms, ask Mexico to stop this onslaught," he said, threatening to close the border using the US military if that doesn't happen.
....In addition to stopping all payments to these countries, which seem to have almost no control over their population, I must, in the strongest of terms, ask Mexico to stop this onslaught - and if unable to do so I will call up the U.S. Military and CLOSE OUR SOUTHERN BORDER!..

— Donald J. Trump (@realDonaldTrump) October 18, 2018
Kelly, who retired from the US Marine Corps with the rank of general, was Trump's first Homeland Security Secretary. When he was asked to take over the White House in July 2017, his longtime aide Nielsen was tapped to replace him. Bolton became Trump's national security adviser in March this year, having previously served as the hawkish ambassador to the UN under President George W. Bush.
Like this story? Share it with a friend!
You can share this story on social media: