I'm president and you're not': Trump mocks CBS anchor in tense 60 Minutes interview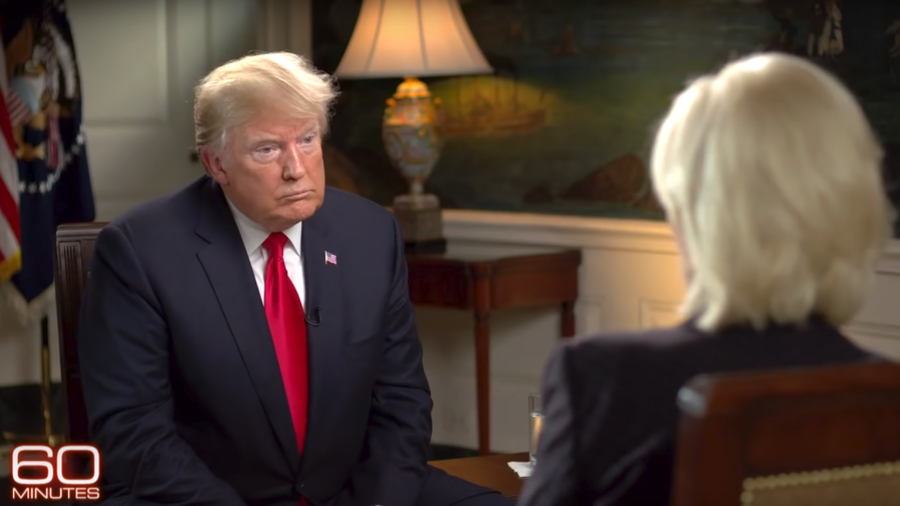 US President Donald Trump stuck his executive privilege in the face of CBS anchor Lesley Stahl during a tug-of-war moment in his interview with CBS, reminding her who was in charge and refusing to make a pledge she demanded.
Trump's big interview to the CBS' Lesley Stahl, aired in full on Sunday evening, saw a lot of verbal wrestling. The veteran anchor constantly interrupted the commander-in-chief, who was eager to delve deeper into his favorite topic – the dishonesty of mainstream media – while Stahl was pressing him for a "yes" or "no" answer on the fate of the Russia probe, the migrant family separation policy and the chances for any more cabinet reshuffles.
Trump has repeatedly denied rumors, circulating since the onset of Robert Mueller's 'Russiagate' investigation, that he was going to fire the special counsel. Democrats have warned that Trump would cross the red line on impeachment if he does that. Stahl went even further, asking Trump to pledge on air that he would not consider shutting down the protracted probe.
"Man, he didn't want to answer that," Lesley Stahl says of President Trump's response to her question about pledging not to fire Robert Mueller. "But you now something? He enjoyed the sparring." For more from the president's 60 Minutes interview, visit https://t.co/njJWGDYJSupic.twitter.com/gt0vGhEK9x

— 60 Minutes (@60Minutes) October 15, 2018
Trump responded that while he won't pledge anything, he has "no intention of doing that." Stahl, however, continued to press for a definitive answer, and eventually coaxed an emotional, and rather personal, response from Trump.
"There is no collusion. I don't wanna pledge. Why should I pledge to you? If I pledge, I'll pledge. I don't have to pledge to you."
The exchange got really heated when Trump scolded Stahl for the way she was conducting the interview. Trump just went on another rant against the mainstream media, when Stahl interrupted him and said that she was changing the subject.
Stahl: I'm-- I'm gonna change the subject again.
Trump: Well, no, even the way you asked me a question, like, about separation. When I say Obama did it, you don't wanna talk about it. When I say I did it, let's make a big deal of it.
Trump argued that Stahl was only interested in making him look guilty and cut short his response on the issue of family separations when he pointed out that it was the Obama-era migration policy that his administration was enforcing. The anchor disagreed, but backed down, saying that she did not want to "get into a fight." Trump's response was both condescending and assertive.
"Lesley, it's okay. In the meantime, I'm president--and you're not."
Trump's patience ran out on Stahl as she was grilling him on the same topics that the mainstream media's attention has been nailed to lately.
'China is a bigger problem than Russia'
READ MORE: Trump: Chinese lived too well for too long
On the tried and trusted subject of Russia's alleged, but unproven interference in the 2016 presidential elections, Trump said that while he believes Russia did meddle, "China meddled too," and China is "a bigger problem." That saw Stahl exclaiming "this is amazing" and accusing Trump of "diverting the whole Russia thing."
Trump: I'm not doing anything.
Stahl: You are, you are.
In July, when Trump stood next Putin in Helsinki, he was given multiple chances to criticize Russia's meddling in the 2016 elections. Each time, he refused.On 60 Minutes, Trump suggests he's been harshly critical of Putin. pic.twitter.com/92LCEd9uHV

— Robert Maguire (@RobertMaguire_) October 15, 2018
'Trade war with China is only a skirmish'
Trump appeared to downplay the massive ongoing trade row between Washington and Beijing, which he himself started by imposing import tariffs on billions worth of Chinese goods. Asked whether he would like to see China plunging into economic depression, Trump said he merely wants it to "open their markets like ours" in a "fair deal." At first he even denied he had ever called it a "war," but later conceded.
"I called it, actually I called it a battle. But, actually, I'm gonna lower that. I consider it a skirmish. And we're gonna win."
'Embrace, but no love with Kim'
Trump has backtracked on his strongest to date expression of his newfound admiration for North Korea's leader Kim Jong-un. At a rally in October, Trump said that he and Kim "fell in love" over some "beautiful" and "great" letters the North Korean leader had sent to the White House.
READ MORE: Brokenuke Mountain? Trump says he and Kim 'fell in love' (VIDEO)
However, when grilled about the quote, taken very seriously by some mainstream publications, Trump stated the more-or-less obvious idea that it should not be taken literally.
Trump: Okay. That's just a figure of speech.
Stahl: No, it's like an embrace.
Trump: It well, let it be an embrace. Let it be whatever it is to get the job done.
'US is not hostile to EU, but EU is'
During the extensive interview, Trump defended his trade policies on Europe, saying that "nobody treats us much worse than the European Union." Trump believes that the bloc was created to take advantage of the US on trade. And while he stands by NATO as an institution, the EU members must contribute more and "they understand that."
"Now, I like NATO, NATO's fine. But you know what? We shouldn't be paying almost the entire cost of NATO to protect Europe. And then on top of that, they take advantage of us on trade. They're not going to do it anymore."
If you like this story, share it with a friend!