'It'll change back?' Trump mocked for his 'natural instinct for science' on climate change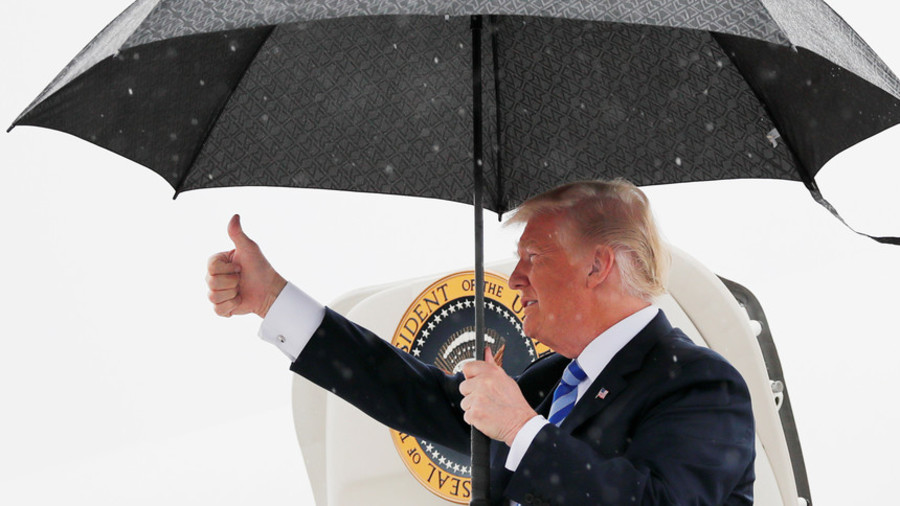 While a sobering new UN report on climate change indicates humans might have little time to change our ways to avoid environmental catastrophe, President Trump isn't worried, pointing to scientists "on both sides of the picture."
Referencing an uncle who was a professor at Massachusetts Institute of Technology (whom he never spoke to about climate change) as apparent proof of his scientific bona fides, Trump told the Associated Press that he has "a natural instinct for science" and that the climate goes "back and forth, back and forth."
The US president remains unconvinced that human activity is the cause of climate change. While he has backed away from a 2012 claim that the concept was "created by and for the Chinese in order to make US manufacturing noncompetitive," he is now convinced that "something's changing and it'll change back again," according to an interview he gave with 60 Minutes on Sunday.
Trump's appointee to the Environmental Protection Agency, Scott Pruitt, notoriously attempted to roll back several key environmental regulations passed under Barack Obama, including the Clean Power Plan, the Clean Water Rule, and a proposed ban on the pesticide chlorpyrifos. Pruitt also oversaw a 23 percent budget cut to the agency and filled science advisory panels with industry representatives instead of unaffiliated scientists.
Trump may believe in climate change now, but he remains convinced that scientists who see a human role in the process have "a very big political agenda." Meanwhile, he doesn't want to "sacrifice the economic well-being of our country for something that nobody really knows."
While some Democrats favor bold moves to address climate change, others – perhaps still shell-shocked by the failure of their 2009 cap-and-trade bill under Obama – shy away from anything more than incremental measures, citing the "hostile" political environment in Congress. Rep. Gerry Connolly (D-VA) said Democrats should "focus on the practical and the opportunistic" in the short term while working toward big-picture "aspirational goals" in the long term.
Some might argue the concept of a "long term," when it comes to the environment, was rendered irrelevant by the latest UN Intergovernmental Panel on Climate Change report. It projected that humans have until 2030 to drastically reduce greenhouse gas emissions if we want to avoid catastrophic climate change in the form of massive sea level rise, increased drought, permafrost melt, and coral reef die-offs.
Think your friends would be interested? Share this story!
You can share this story on social media: