Chubbs is back! WATCH gigantic 15ft alligator roam Florida golf course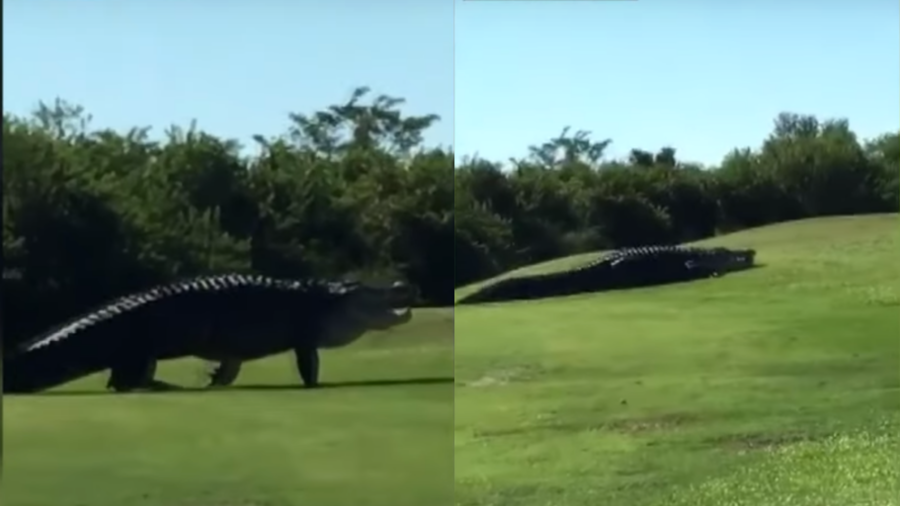 A massive alligator, nicknamed Chubbs, has once again been spotted in Florida roaming along the clean-cut grass and shocking visitors at the Buffalo Creek Golf Course in Palmetto.
Strolling the course and casually enjoying the warmth of sunlight, the massive 15-foot reptile was not shy of cameras. While the enormous predator instilled fears in those who happened to come across it for the first time on Saturday, Chubbs has already become somewhat of a celebrity figure for local golfers, after it was first spotted at Buffalo Creek back in 2016.
Maintaining his celebrity status, the king-sized gator who has managed to stay alive over the years has been repeatedly captured roaming his domain and providing a thrilling experience for those lucky enough to catch a glimpse of the crocodilian.
The management of Buffalo Creek Golf Course is well aware of Chubbs' residential status and remain calm about it, as long as it keeps its distance from their clients.
Gator Run: Florida man chases away store customers with a baby alligator… just to buy beer (VIDEO)
Like this story? Share it with a friend!