Gator Run: Florida man chases away store customers with a baby alligator… just to buy beer (VIDEO)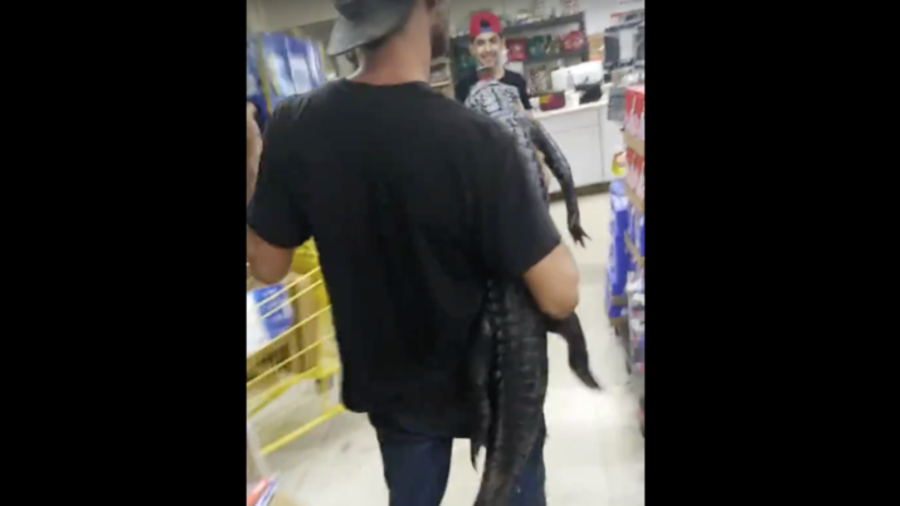 Picking up some beer in Florida seemed like a boring task for one Jacksonville convenience store customer, who decided to spice up his shopping trip by chasing away other shoppers with a live gator.
After entering the store from the parking lot with a pet alligator, Facebook user Robby Stratton who posted a video of himself asks "ya'll aint out of beer are ya?"
Noticing one of the customers to his left, the crock handler runs in his direction, shouting "Is he taking the last bit of beer? You aren't taking the last bit of beer, are you?"
The video of the incident shows the customer running away from the man with the crocodilian companion. Happy to have cleared the aisle, Stratton grabs a 12-pack of beer. The recording ends without revealing further details.
Real friend, fake croc? Debunking the viral 'man vs alligator' video
"How can anybody be mad at me when the 'victims' ain't even mad," Stratton wrote in a subsequent Facebook post with a picture of his buddies in the store. "It was all fun and games. Everyone was laughing having a good time. Yall can calm down now."
The Florida Fish and Wildlife Conservation Commission is now investigating the incident to see if the owner has done anything illegal with his actions, local media reports. While authorities in Florida advise against keeping alligators as pets, individuals are allowed to possess the dangerous creatures. Lawful possession of American alligators is allowed if the individual holds a Class II Personal Pet License, which requires one year and 1,000 hours of "substantial practical experience" in the handling, husbandry, and care of crocodilian species.
Like this story? Share it with a friend!
You can share this story on social media: