Friendly Neighborhood Spider-Cop? Web weapon designed to subdue mentally ill troublemakers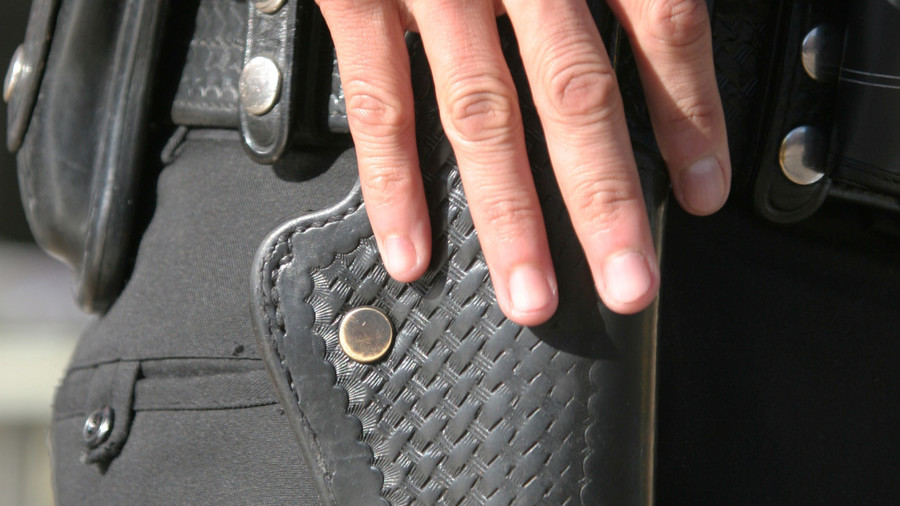 New York police are testing a new weapon that wraps the target in Kevlar cord. With nearly 1,000 people killed by US cops each year, non-lethal equipment is welcome – but can it break officers' habit of reaching for the gun first?
The new device looks more like something out of a comic book. In New York, where the killings of several unarmed civilians by cops have sparked major protests, anything that gets officers' hands off their guns is worth a try.
The device consists of a hand-held remote that shoots barbed Kevlar cords at suspects at a speed of 640 feet per second, wrapping tightly around their body almost too quickly to see. The BolaWrap 100 is designed to incapacitate, not kill, and marketing materials indicate its target "audience" is the mentally ill, who are disproportionately represented among police casualties.
NYPD Commissioner James O'Neill told reporters the department was "not looking at [the Bola 100] right now" during a crime briefing last week, only to surreptitiously test the product a few days later, according to Brooklyn Borough President Eric Adams, who subsequently invited the press to his own live demonstration.
"Spider-Man has nothing on Bola," Adams said.
The weapon is very loud, comparable to a gunshot, though a quieter version is in development. Unlike tasers, pepper spray, and other popular non-lethal police weapons, Bola is supposedly painless, a claim which seems to hold up given public officials' willingness to serve as guinea pigs for the futuristic device.
Wrap Technologies sells the BolaWrap for $800 and claims 24 police departments are currently testing it out.
A report issued in January 2017 concerning NYPD response to "emotionally-disturbed persons" indicated that despite the launch of a crisis-intervention training program two years earlier, there was no reliable system in place to de-escalate confrontations between cops and the mentally ill. In one 2016 example, an NYPD sergeant fatally shot a mentally-ill 66-year-old Bronx woman inside her apartment when she picked up a baseball bat; proponents of the program believe he could have de-escalated the situation given the proper training.
Even if all New York cops receive a Bola with their holiday bonus, they still have to use them – officer training still centers on the use of firearms, and the sergeant who shot that woman made the choice to reach for his gun instead of his taser when he engaged her. And seeing how many cops are allowed to walk away scot-free after killing on duty, it's an open question whether new non-lethal toys will stop them from using deadly force.