'Right out of Hollywood': Crazy 3 car collision stuns police (PHOTOS)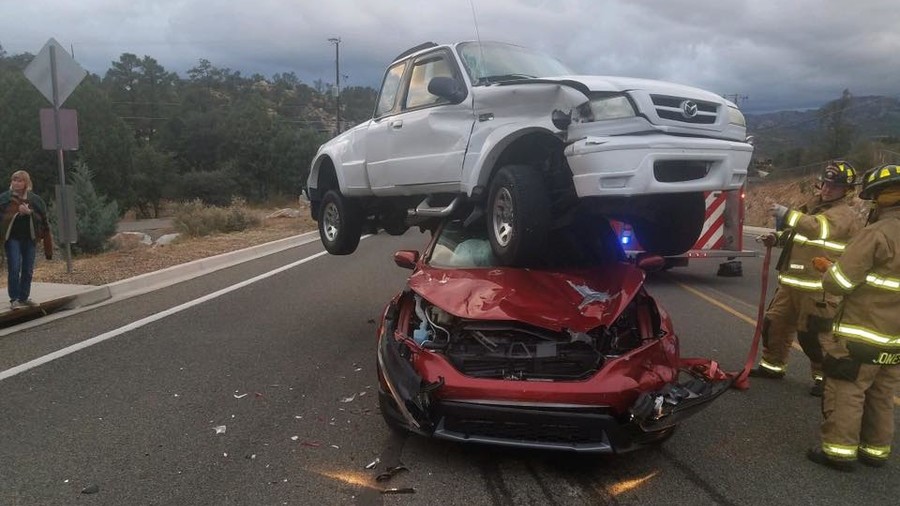 The aftermath of a bizarre three car collision that saw a pickup truck flip through the air and land on top of another vehicle has been shared by authorities in Prescott, Arizona.
The Yavapai County Sheriff's Office released images of the "remarkable" car pile up on Facebook after the crash took place on Williamson Valley Road on Sunday evening.
The incident occurred near the entrance to Granite Mountain Middle School. Fire fighters, ambulances and police rushed to the scene to find a red sedan squashed beneath a white pick up truck, with two passengers inside. The Prescott Fire Department said the crash was a scene "right out of Hollywood."
The woman driving the white pickup said she was hit by a black truck that was travelling beside her, Prescott Fire Department said. The impact caused her to lose control and veer into oncoming traffic. Her car hit a black car, causing her vehicle to flip in the air and land on top of the red sedan.
Despite a pickup truck landing right on top of their vehicle, the passengers in the red sedan had no injuries. None of the other people involved in the freak crash were hurt.
READ MORE: CCTV footage shows 2 military transport planes' bizarre collision at Khartoum airport (VIDEO)
"This is the second accident this week where the use of seatbelts has helped avert a tragedy and firefighters would once again like to remind everyone that the use of this simple device saves lives daily." Prescott Fire Department said.
The black truck that first hit the white pickup was gone from the scene when authorities arrived.
Like this story? Share it with a friend!