'No deal' behind pastor Brunson's release from Turkey – Trump
Published time: 12 Oct, 2018 21:41
Edited time: 15 Oct, 2018 08:05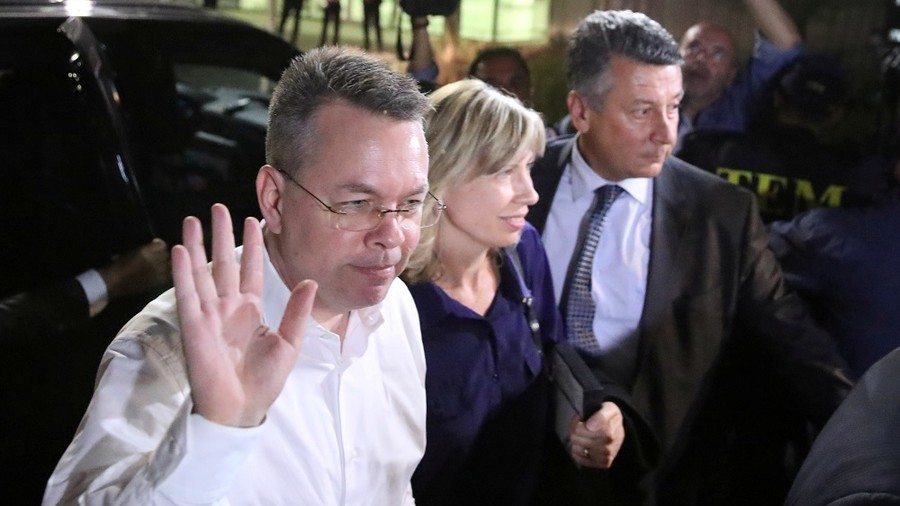 No deal was struck between Washington and Ankara for releasing pastor Andrew Brunson from Turkish prison, US President Donald Trump said. The freed cleric is en route to the US and will visit the Oval Office upon arrival.
"We got him out," Trump told reporters upon his arrival to Cincinnati, Ohio on Friday, where he is scheduled to speak at a rally. "I hear he's in very good shape," he added.
"There was no deal at all. No deal," Trump replied when asked if his administration offered to remove some sanctions from Turkey in exchange for Ankara letting the pastor go.
Trump says Pastor Andrew Brunson is likely to visit the Oval Office on Saturday. "We're very honored to have him back with us. He suffered greatly", Trump says, adding this: "There was no deal at all. No deal."

— Philip Crowther (@PhilipinDC) October 12, 2018
"We got him out," says Pres Trump of Pastor Brunson, though also says there was no deal made with Turkey. "I hear he's in very good shape," the pres told press pool on the tarmac at Cincinnati Municipal Lunken Airport.

— Mark Knoller (@markknoller) October 12, 2018
Brunson flew out from Izmir, Turkey on Friday evening, and has left Turkish airspace en route to Germany. He is expected to arrive at Joint Base Andrews on Saturday morning, and has been invited to the Oval Office later in the day
"We're very honored to have him back with us. He suffered greatly," Trump said.
The evangelical pastor has lived in Turkey for 23 years, running a church of about two dozen congregants in the coastal city of Izmir. He was arrested in October 2016 and accused of complicity with the attempted coup against President Recep Erdogan in July that year.
The Trump administration has demanded Brunson's release for months, going so far as to sanction Turkish Justice Minister Abdulhamit Gül and Interior Minister Suleyman Soylu under the Global Magnitsky Act in August 2018.
US economic sanctions also hurt the Istanbul stock exchange and the Turkish lira, which dropped to the historic low against the dollar.
Turkey responded by symbolically freezing the assets of US officials and vowing never to submit to US pressure. Videos on social media showed Turks burning dollar bills and using the hashtags #BoycottUSA and #TurkeyWillPrevail.
Brunson was released on Friday by a Turkish court, which found him guilty of terrorism but sentenced him to time served. He had been under house arrest since July.
Presidential spokesman Fahrettin Altun said the decision was not made under US pressure.
"Like the Turkish courts, the Republic of Turkey does not receive instructions from any body, authority, office or person. We make our own rules and make our own decisions that reflect our will," Altun said in a statement on Friday.
Think your friends would be interested? Share this story!