'Somebody took politics too far': Man's truck torched 'over Trump stickers'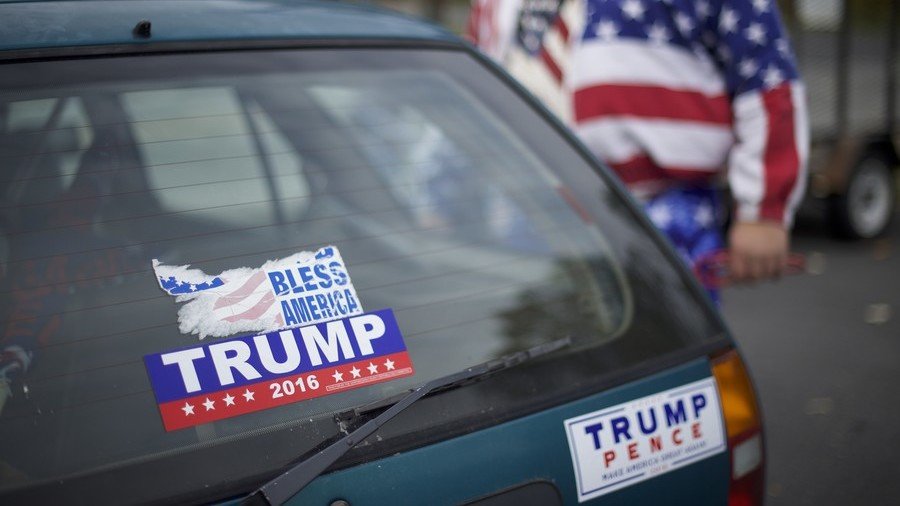 A man in Washington state returned from a night out drinking to find his truck burned to ashes in a parking lot. He claims the arsonist vandalized and torched his vehicle because of his pro-Donald Trump bumper stickers.
After a few rounds of drinks at a bar in Vancouver, Washington, Johnny MacKay hopped in an Uber and went home, leaving his truck parked under a streetlight in the bar's parking lot, hoping this would deter thieves and vandals, he told KOIN TV.
When he returned the following morning, MacKay found his truck had been torched overnight, its tires melted, windows shattered, and bodywork warped and charred to cinders.
On the side of the truck, the vandal had spray-painted an anti-Trump message. MacKay believes he was targeted for the two pro-Trump bumper stickers on his truck.
"I literally just put them on this weekend," he said. "If I would've known somebody would've taken politics this far – I saw them, I thought they were funny and apparently somebody didn't get the joke."
While the motive for the attack is officially unknown, protests against the US president's supporters have turned violent before. Aggrieved protesters have burned cars at street protests, stolen Trump supporters' signature "Make America Great Again" hats, and thrown bricks through the windows of Republican offices.
Republicans have criticized Democrat leadership for not condemning anti-Trump violence strongly enough. In an interview aired Tuesday, Hillary Clinton seemed to encourage this kind of "resistance" against Trump.
"You cannot be civil with a political party that wants to destroy what you stand for, what you care about," she opined. "The only thing the Republicans seem to recognize and respect is strength."
MacKay drives for Uber, and the loss of his truck means a loss of income.
"[They] need help," he said, speaking about the arsonist. "Whether it was from drugs or a mental condition, this person needs to get help. If they blow up at this, who knows."
Like this story? Share it with a friend!
You can share this story on social media: