Nikki Haley's shock resignation prompts various theories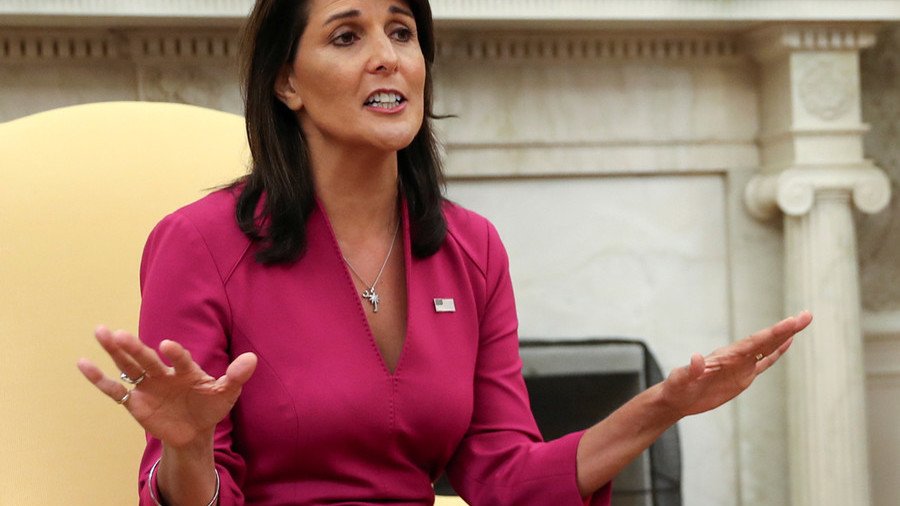 Journalists and pundits have reacted with shock to the unexpected resignation of US Ambassador to the UN Nikki Haley — and speculation abounds as to the reason for the abrupt departure.
US President Donald Trump accepted Haley's resignation as UN ambassador during an oval office meeting on Tuesday morning, with Haley having reportedly discussed stepping down with Trump last week.
Immediately after she resigned, Twitter lit up with theories and opinions about the reason, with many suggesting Haley could be the Trump administration official behind a highly critical anonymous op-ed published by the New York Times last month.
Others pundits and Twitter politicos saw the sudden resignation as a sign that the former Governor of South Carolina was planning to run against Trump in the 2020 presidential election.
But the seemingly cordial departure hinted that this may not be the case — and Haley herself soon poured cold water on the idea, saying she would not run in 2020 and would campaign for Trump instead.
That, in turn, prompted speculation that maybe Haley was angling after the vice president job instead.
Twitter also reacted to a New York Times article on Haley's resignation which described her as a "moderate" Republican, with many of her critics astounded that the paper would choose to label her that way, given her apparent loyalty to Trump and conservatives.
Others, however, were sad to see Haley go.
There was also plenty of speculation about who would replace Haley in the UN ambassador role, with Kanye West well out ahead of any other potential celebrity competitors.
Some also speculated about whether Trump would hand the role over to his daughter Ivanka, with conservative commentator Ann Coulter tweeting that it would be a good idea.
On a more serious note, it was suggested that controversial US ambassador to Germany Richard Grenell or Dina Powell, former deputy national security adviser could be in the running.
You can share this story on social media: