Haley says she will not be running in 2020, will campaign for Trump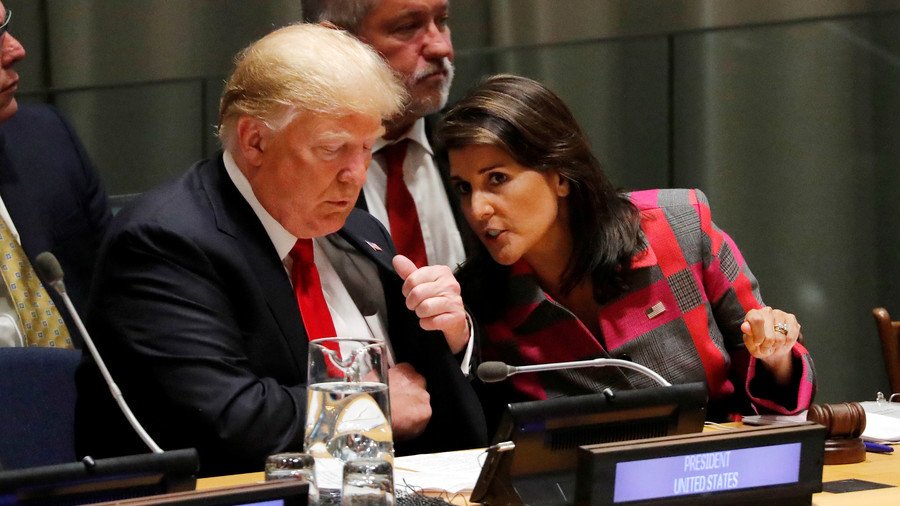 Nikki Haley, who resigned as US ambassador to the UN earlier on Tuesday, said that she will not be running for president in 2020 and will support Donald Trump in his bid for his second term.
Trump accepted Haley's resignation earlier on Tuesday and said that she will be leaving her job by the end of the year. She reportedly discussed the move with the president last week during a visit to the White House.
READ MORE: Trump accepts Nikki Haley's surprise resignation as UN ambassador
Speaking after Trump announced her resignation, Haley dismissed rumors that she could mount a presidential bid in 2020, as a more mainstream Republican opponent to Trump.
"No. I'm not running in 2020," she told reporters in the Oval Office, before reaffirming her commitment to the president's "America First" agenda.
Nikki Haley's stated reason for departing: "I think that it's just very important for government officials to understand when it's time to step aside...The truth is I want to make sure that this administration has the strongest person to fight." pic.twitter.com/9z55ofF4H7

— Axios (@axios) October 9, 2018
Haley had disagreed with the president on key issues like his much-maligned travel ban, and on his distaste for NATO. However, Haley insisted last month that she dealt with disagreements in a professional manner, picking "up the phone to call him or meet with him in person."
You can share this story on social media: