The US ambassador to Germany has one priority – and there's a hashtag to prove it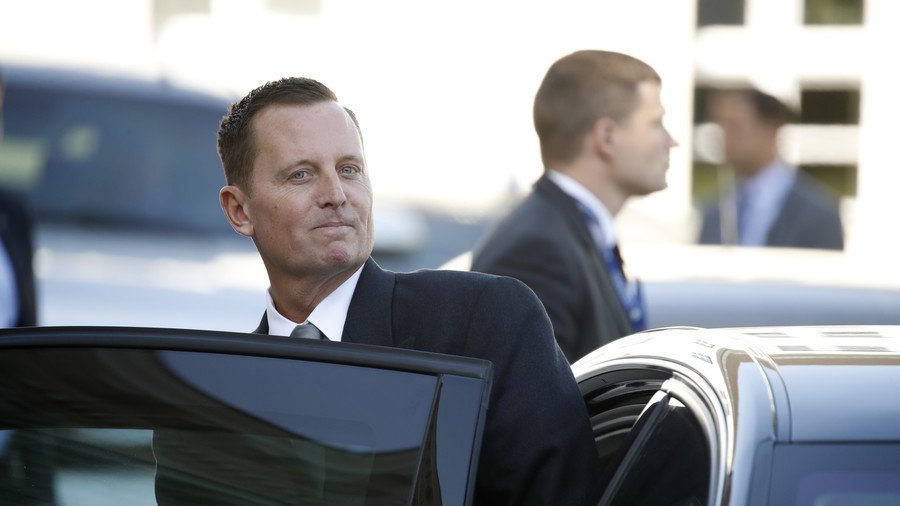 US President Donald Trump's plan to bully European countries into choosing between doing business with either the US or Iran has been working – and US Ambassador to Germany Richard Grenell seems eager to take credit for it.
Grenell, according to the US Embassy in Berlin, has been pressuring German companies "daily" to cease business operations in Iran. He has taken to tweeting triumphantly any time a firm caves to pressure from Washington – adding the hashtag #sanctionsareworking to drive home the point.
German firms have led the exodus of businesses out of Iran since the Trump administration re-imposed sanctions which had been lifted by former president Barack Obama after the signing of the Joint Comprehensive Plan of Action (JCPOA) nuclear deal in 2015, which was scrapped by Trump this year, despite the fact that the EU has reaffirmed its commitment to the deal.

For a supposed diplomat, Grenell's behavior – tweeting in celebration at the prospect of companies from his host country losing out on money and business deals – has been notably strange. Indeed, only a few hours after he arrived in the country in May, the new ambassador issued a Twitter directive, saying that German companies in Iran should "wind down operations immediately."
Some European countries have tried to enact measures to protect companies from running into trouble with the US sanctions, but so far their efforts to reassure businesses don't seem to be working. German companies which have ceased or scaled back Iranian operations include Allianz, Lufthansa, Deutsche Bahn, Munich Re, Deutsche Telekom, Samson, Henkel, Durr, Hapag-Lloyd and BASF.

The latest effort by European diplomats is a measure called the 'special purpose vehicle' (SPV) which would set up a special payments channel and has the dual goal of aiming to persuade Iran to remain inside the nuclear deal and convince European companies it is safe to do business in the country despite the threat of secondary sanctions from the US.
In his eagerness to see German businesses bow to US demands, Grenell seems to have jumped the gun when it comes to one company, however. Last week, Bloomberg quoted Grenell saying that he had been in talks with Volkswagen and that the automaker had agreed to comply with US sanctions on Iran – but Volkswagen itself did not confirm Grenell's triumphant version of events and a company spokesperson told Reuters its position on Iran had not changed.
Bijan Djir-Sarai, the foreign policy spokesperson for the Free Democratic Party in the German parliament, admitted that Washington's policies are "having an impact" but was less inclined to give Grenell much credit for it, saying that decisions made by German companies had "nothing to do with" pressure coming from the ambassador. "The German and European economies are strong. We don't need to take orders as if we were an occupied zone," he said.
Grenell, who is a former US spokesman at the UN, has also found himself in hot water over accusations that he was meddling in the domestic politics of his host country when he said in an interview with the right-wing Breitbart in June that he hoped to "empower" like-minded conservatives across Europe.
Andreas Nick, a lawmaker from the Christian Democratic Union (CDU) party, told Deutsche Welle that Grenell's comments were "highly inappropriate" and said that if he was not in Germany to act as a "traditional ambassador" but a "PR person for the alternative-right movement" in Europe, that would be "an issue."
Sahra Wagenknecht, head of the far-left Linke party, went further, telling Die Welt that if Grenell "thinks he can lord over Europe and determine who is governing here," and that if the government in Berlin takes the democratic sovereignty of Germany seriously, they should "expel him immediately."
Like this story? Share it with a friend!
You can share this story on social media: