Kanye West scores dinner date with Trump as rapper plunges headlong into politics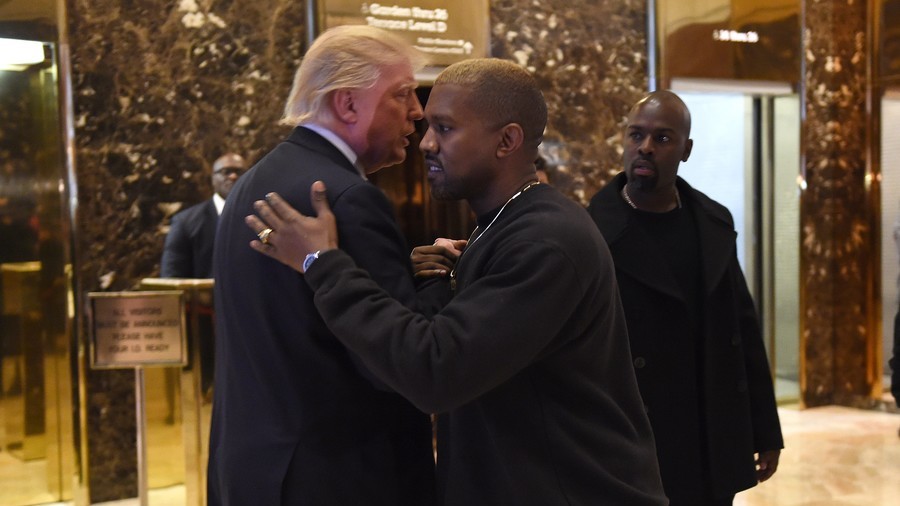 Rap megastar and outspoken Trump supporter Kanye West will get his dream dinner date on Thursday when he has lunch with the president at the White House, but how deep are Kanye's political ambitions?
White House Press Secretary Sarah Sanders announced the meeting on Monday, saying that West will meet with Trump as well as senior adviser Jared Kushner. Like any political sit-down, the meeting looks set to be more than just a friendly chat about "multicultural issues" and "life," as was the case when the pair first met at Trump Tower in 2016.
This time, West plans on talking criminal justice reform with Kushner, focusing on providing more job opportunities for former convicts who've served their time. He also plans on lobbying Trump to bring more manufacturing jobs to his native Chicago, and reduce gang violence.
Kanye's choice of issues is apt. Kushner has made criminal justice reform a key priority, while Trump has long promised to bring manufacturing jobs back to the United States, and touts employment numbers as proof of his success.
Among his conservative twitter musings and self-help ramblings, Kanye has kept criminal justice reform central to his now-emerging political platform. His wife, Kim Kardashian-West met with Trump in May to talk reform, and persuaded the president to pardon Alice Marie Johnson, a 63-year-old grandmother serving a life sentence for a first-time, non-violent drug offense. Kardashian-West clearly made an impression on Trump, who granted Johnson clemency in June.
Unlike most of his Hollywood and music-biz peers, Kanye has been vocal and near-constant about his support for the 45th president. After meeting Trump shortly after his election victory in 2016, West caught some flak for a series of pro-Trump tweets, and deleted his Twitter account last May.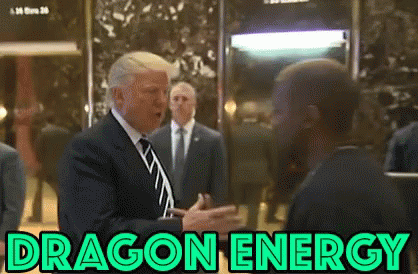 However, West returned to Twitter more radical than ever this April, calling Trump a "brother" who shares his "dragon energy," amid a flurry of self-love affirmations and conservative musings. These musings saw Kanye banned from radio stations, labeled a "race traitor," and an "Uncle Tom," and bashed by his fellow celebrities.
West's high-energy political pondering captured the public imagination, and fuelled speculation that the rapper might be considering public office. Almost overnight, mock "#Kanye 2024"posters appeared in Los Angeles, Chicago, and New York, bearing West's face and the slogan "Keep America Great."
If not President Kanye, perhaps Mr. Kanye West, UN ambassador? The surprise resignation of UN ambassador Nikki Haley on Tuesday has left an opening for West to get involved with politics full-time, at least to Twitter. With Haley's successor still unnamed, Twitter is alight with speculation that a certain Yeezy could fill her shoes.
BREAKING: Trump's new UN Ambassador to be announced today. Ambassador Ye. The Ambassador has released his first statement on the new position:"No one man should have all that powerThe clock's ticking, I just count the hoursStop tripping, I'm tripping off the power" pic.twitter.com/UzhubsG8OL

— Benny (@bennyjohnson) October 9, 2018
Like Trump, Kanye has a flair for the dramatic, and understands the power of an inflammatory statement. Celebrities lined up to bash the rapper for his off-kilter statements on slavery, including his call to abolish the 13th Amendment, which prohibits slavery. While West was most likely referring to ending mass incarceration, also covered by the 13th Amendment, the soundbite stuck and West was in the spotlight again.
Pop star Lana Del Rey called West's support for Trump "a loss for the culture," and Avengers star Chris Evans called his statements on slavery "retrogressive, unprecedented and absolutely terrifying."
In an impromptu monologue on Saturday Night Live two weeks ago, West again courted controversy when he donned a red "Make America Great Again" hat, slammed the "one sided" liberal media and criticized the Democratic party for encouraging a culture of welfare-dependence among black Americans.
"The blacks want always Democrats, you know it's like the plan they did, to take the fathers out the home and put them on welfare," he rambled. "Does anybody know about that? That's a Democratic plan."
West's speech was eviscerated by SNL's Pete Davidson who called it "one of the worst, most awkward things I've ever seen here," and mocked Kanye's mental health. However awkward or poorly received his speech was, West followed it up with a tweet where he said the hat "Represents good and America becoming whole again."
"We will no longer outsource to other countries," he continued. "We build factories here in America and create jobs. We will provide jobs for all who are free from prisons as we abolish the 13th amendment," he added, again touching on his signature issues.
But does all this signal political ambition? Or is the fame-hungry singer – who once compared himself to God, Shakespeare, and Beethoven – looking for new and inventive ways to stay in the spotlight? Well, West famously announced his intentions at the 2015 MTV VMA awards, when he declared: "And yes, as you probably could've guessed by this moment, I have decided in 2020 to run for president."
Earlier this year, Kanye pushed the time frame out a little, simply tweeting "2024" in April. Stranger things have happened, and one thing looks certain: West could count Trump in as a supporter, with the president tweeting two weeks ago that Kanye is "leading the charge."
Like many, I don't watch Saturday Night Live (even though I past hosted it) - no longer funny, no talent or charm. It is just a political ad for the Dems. Word is that Kanye West, who put on a MAGA hat after the show (despite being told "no"), was great. He's leading the charge!

— Donald J. Trump (@realDonaldTrump) September 30, 2018
Like this story? Share it with a friend!