Trump told Saudi King he wouldn't last '2 weeks' without US support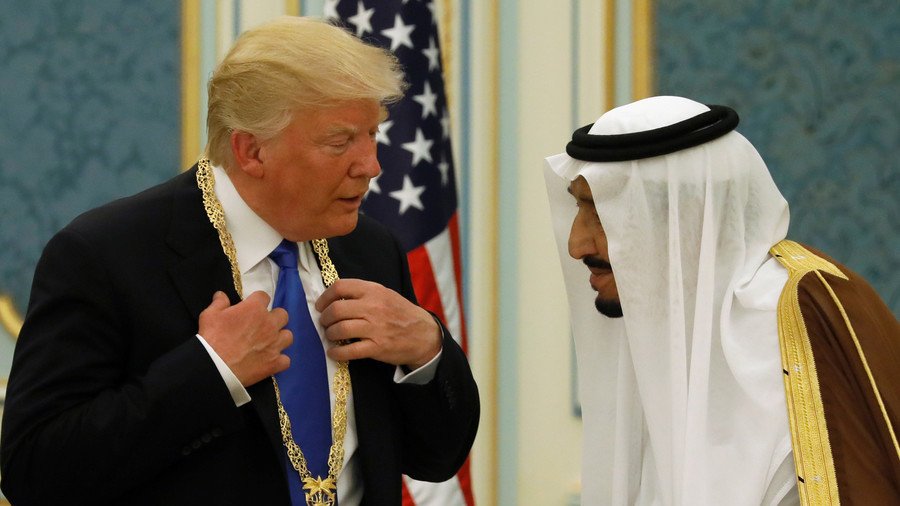 The Saudi Arabian monarchy would fall "within two weeks" if it wasn't for the military support that the US has provided to the Gulf kingdom over the decades, Donald Trump noted in graceless remarks to the King.
"We protect Saudi Arabia," Trump proclaimed at a rally in Southaven, Mississippi. "And I love the King, King Salman. But I said 'King, we're protecting you, you might not be there for two weeks without us. You have to pay for your military.'"
While Trump failed to mention when the undiplomatic remarks were made to King Salman, it is known that the two leaders held a phone conversation on Saturday to discuss global oil supplies.
READ MORE:US approves $1bn in arms sales to Saudi Arabia, including 6,500+ anti-tank missiles
Trump has repeatedly vaunted the might of the US military and the country's role as the "protector". Time and again, he has urged NATO nations to contribute to the overall maintenance of the alliance, which is heavily dependent on US military and industrial spending. South Korea and Japan also have the US to thank for stability in the Asian region, according to Trump, who previously demanded increased payments from US allies to keep American bases in their countries.
While the US does not have any military bases in Saudi Arabia, neighboring Qatar hosts a large American contingent at Al Udeid Airbase. In the immediate vicinity of Riyadh, Bahrain remains home to the US Fifth Fleet, while adjacent Kuwait also continues to host US troops. There is also an American military presence in the UAE, Iraq, Jordan, and Oman, which can rush to help Saudi Arabia at a moment's notice.
READ MORE:Trump plan to ax oversight on US arms sales will 'lead to disaster' – analysts to RT
Trump has yet to demand payment for keeping US troops in the oil-rich region, but the US president did urge them to lower oil prices in return for security last week. "We defend many of these nations for nothing, and then they take advantage of us by giving us high oil prices. Not good. We want them to stop raising prices, we want them to start lowering prices," Trump said at the United Nations General Assembly.
Think your friends would be interested? Share this story!
You can share this story on social media: