Trump orders FBI to reopen background investigation into Supreme Court nominee Kavanaugh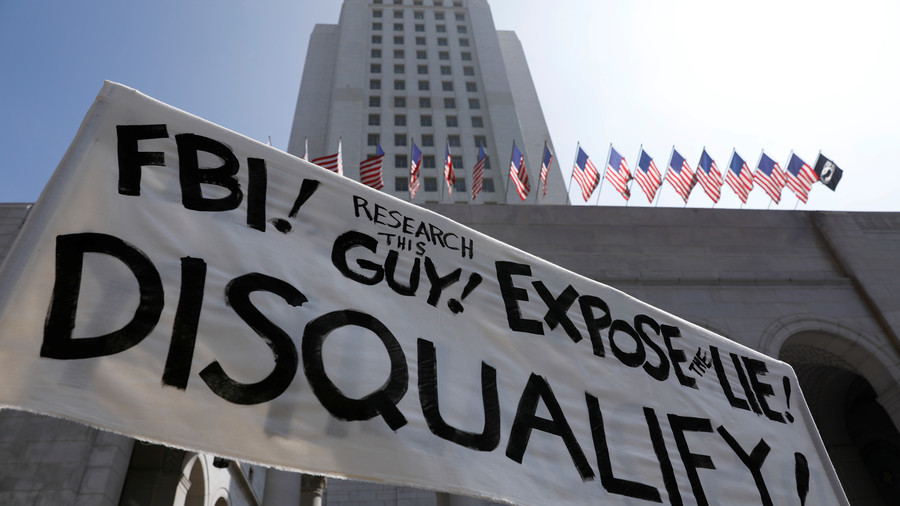 President Donald Trump has given the FBI one week to conduct an investigation of the allegations that Supreme Court nominee Brett Kavanaugh sexually assaulted a woman in 1980s.
"I've ordered the FBI to conduct a supplemental investigation to update Judge Kavanaugh's file. As the Senate has requested, this update must be limited in scope and completed in less than one week," Trump said in a statement.
Kavanaugh has pledged to cooperate with the probe. "I've done everything they have requested and will continue to cooperate," he said in a statement carried by the White House. He noted that since his nomination he has been interviewed by the FBI and had his background checked "directly with the Senate."
Referring to his testimony at the Thursday hearing, he stressed that he was transparent and answered questions "about every topic the Senators and their counsel asked me."
Trump's decision comes after Senate Judiciary Committee voted along party lines in favor of the nomination of Kavanaugh to the Supreme Court after emotional testimonies from the judge and his accuser Dr. Christine Blasey Ford.
Democrats who were opposing Trump's pick were pushing for the investigation. On Friday two republican senators also suggested that an FBI probe should proceed further nomination procedures.
Ford's attorney has applauded Trump's decision, calling a thorough FBI probe "critical" in establishing the truth.
Ford "welcomes this step" and "appreciates the efforts of Senators Flake, Murkowski, Manchin and Collins – and all other senators who have supported an FBI investigation," the attorney said in a statement.
At the same time, she criticized the limited timeframe within which the investigation should take place, which Trump has set at no longer than a week.
"No artificial limits as to time or scope should be imposed on this investigation," the attorney stated.
A week's delay means Kavanaugh will not be able to take his seat with the other eight Justices when they convene on Monday.
READ MORE:Activists corner Sen. Flake, protest in Senate building ahead of Kavanaugh vote
Senate Judiciary Committee chair Chuck Grassley said that the committee requested of the White House to instruct the FBI to carry out the investigation, which would be "limited to current credible allegations."
2day Judge Kavanaugh's nomination 2b Supreme Court Justice passed out of judic cmte 11-10 JudicCmte requested admin instruct FBI to conduct a SUPPLEMENTAL background investigation limited to current credible allegations &lasting up to 1 wk. 6 full field investigations alrdy done

— ChuckGrassley (@ChuckGrassley) September 28, 2018
As Trump greenlighted the FBI probe, which he had previously opposed, some GOP senators took to Twitter to voice support to the decision, while others cast doubt on its necessity. All agreed that it should take no more than a week.
Tom Cotton (R-Arkansas) said that if the investigation will indeed by limited to the "current credible allegations" it should have wrapped up by now.
If FBI investigation is limited to "current credible allegations" against Kavanaugh, then it should be over now, because there are no credible allegations against him.

And only a fool would think this will change Senate Democrats' shameful treatment of Kavanaugh. Mark my words.

— Tom Cotton (@TomCottonAR) September 28, 2018
Lindsey Graham (R-South Carolina) was particularly confident that the investigation wouldn't hurt Kavanaugh's chances.
I've never felt better about the Supreme Court nomination of Judge Brett Kavanaugh than I do right now.

— Lindsey Graham (@LindseyGrahamSC) September 28, 2018
Orrin Hatch (R-Utah) also offered his conditional support to the probe, provided it would be limited in scope and would "address the concerns raised by Senator Flake and others while also being fair to Kavanaugh family," he stated.
HATCH on the announcement on next steps for the Kavanaugh confirmation:

"I support the decision for an investigation limited in length and scope as described today. This will address the concerns raised by Senator Flake and others while also being fair to the Kavanaugh family." pic.twitter.com/QhrkcUzc3w

— Senator Hatch Office (@senorrinhatch) September 28, 2018
Senate Majority Leader Mitch McConnell (R-Kentucky) praised Kavanaugh as "one of the most qualified and most impressive Supreme Court nominees in memory." He also announced that the Senate would formally go ahead with the contentious nomination, regardless of the FBI probe.
Today, with the unanimous support of my conference, the Senate will proceed to the nomination of Judge Brett Kavanaugh to serve as an Associate Justice on the Supreme Court of the United States.

— Leader McConnell (@senatemajldr) September 28, 2018
Ford accused Kavanaugh of improper sexual behavior in the 1980s, when they were both in high school. Her allegations only surfaced after the Kavanaugh confirmation hearings had ended, and Thursday's testimonies revealed that Sen. Dianne Feinstein (D-California) and her staff knew about them even as Feinstein herself failed to bring them up in her meetings with Kavanaugh.
The hearing on Thursday and the committee's discussion on Friday saw lawmakers sparring on whether gaps in Ford's memory were the proof she was telling the truth, and if she was used as a pawn in political games. Both Ford and Kavanaugh gave emotional statements, saying the lives of their families have been ruined by the whole process.