Megaphone diplomacy: US envoy Nikki Haley calls for ouster of Venezuela's Maduro in street protest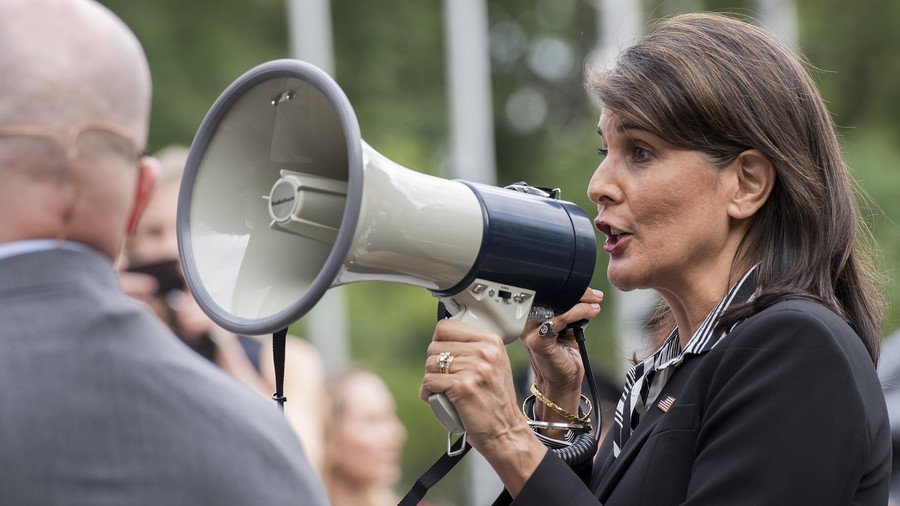 US ambassador to the United Nations Nikki Haley joined Venezuelan protesters outside UN headquarters in New York. Addressing the crowd with a megaphone, she called for regime change in the floundering socialist country.
"We are going to fight for Venezuela and we are going to continue doing it until Maduro is gone!" Haley shouted to the crowd, calling for an end to President Nicolas Maduro's rule.
"We need your voices to be loud, and I will tell you, the U.S. voice is going to be loud," Haley told the dissident Venezuelans.
The ambassador recalled a visit last month to Venezuela's border with Colombia, where she announced a $9 million aid package for refugees fleeing Venezuela, and again called for Maduro's ouster.
"What we saw is what no one should live," she told the crowd on Thursday, "while Maduro is eating in nice restaurants."
Maduro was slated online last week for eating a $275 steak at internet-famous 'salt bae' chef Nusret Gökçe's Istanbul restaurant, while the average Venezuelan lost 24 pounds in body weight last year due to food shortages.
The protest Haley addressed took place on the sidelines of the United Nations General Assembly. The square she spoke at also hosted protests from Falun Gong practitioners persecuted for their religion in China, and ultra-Orthodox Jews protesting against Israel's existence.
Inside, President Trump also targeted Maduro's government in a fiery diatribe against socialism, an ideology he said has "produced suffering, corruption, and decay" wherever it has been tried.
"Not long ago, Venezuela was one of the richest countries on Earth. Today, socialism has bankrupted the oil-rich nation and driven its people into abject poverty," Trump told world leaders on Tuesday.
The US treasury slapped economic sanctions on Maduro's "inner circle" of family and political loyalists on Tuesday, and Trump flirted with the idea of a coup or military intervention when speaking to reporters.
"It's a regime that frankly could be toppled very quickly by the military, if the military decides to do that," the president said, adding that "all options are on the table" regarding a response.
READ MORE: US way or no way: Trump treated rest of world as America's footstool at UNSC
Defense Secretary James Mattis was more sober when asked whether the administration has a plan for intervention.
"Well, in fact, we do have one," Mattis said. "It's called a hospital ship that we're sending down there." The US Navy's USNS Comfort is set to dock off the coast of Colombia this fall, where it will provide care to some of the estimated one million refugees who have fled Venezuela for Colombia in the wake of the latest economic crisis. A Chinese navy hospital ship docked also near Caracas last Saturday on a similar mission.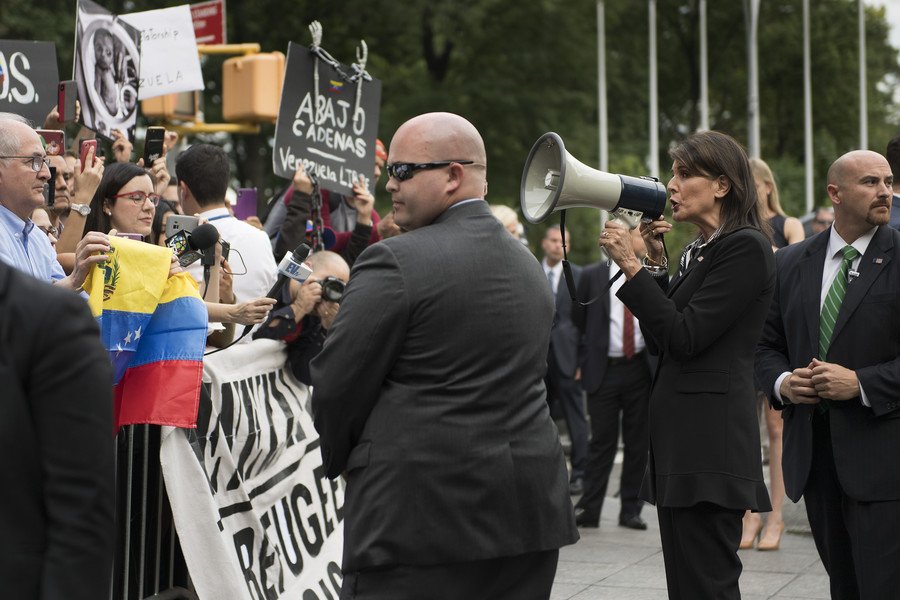 In his own speech to the assembly, Maduro decried the "imperialist" US and accused Western media of "trying to fabricate a migration crisis in Venezuela." With regime change being openly discussed by the Trump administration, Maduro called for talks with Trump, on a range of topics "which the United States government wants to talk about."
Before departing for New York, Maduro said he hoped he would get a chance to meet Trump face-to-face. "I'm even willing to talk to President Trump, I think if President Trump and I speak, we could understand each other," he said in Caracas.
Think your friends would be interested? Share this story!
You can share this story on social media: