Maduro says he's ready 'to shake hands' with Trump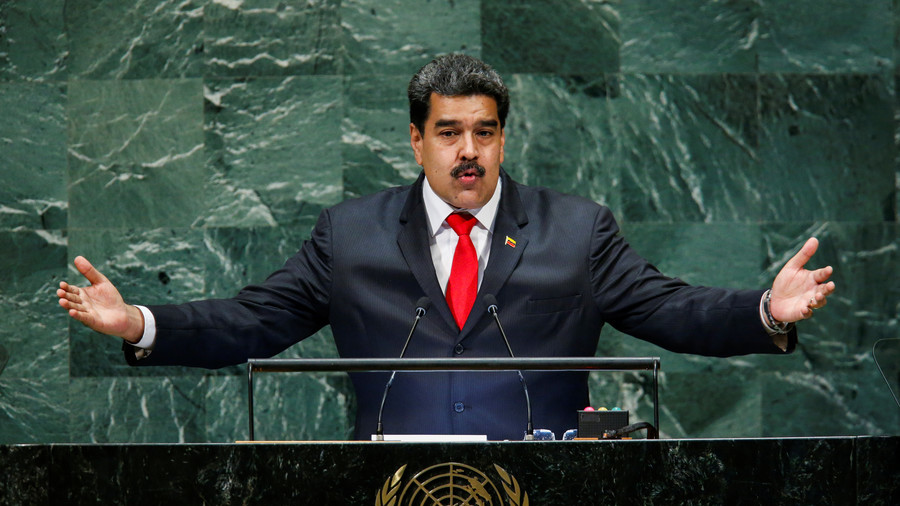 Venezuela's President, Nicholas Maduro, has said that he is willing to reach out to his US counterpart and discuss mutual grievances. Maduro has been one of Donald Trump's arch-nemeses during Trump's time in office.
Maduro made the offer to the US President while speaking at the UN General Assembly on Wednesday. The Venezuelan socialist said that he was ready to cast aside "dramatic differences" and give a dialog a shot.
He suggested that, if agreed to, the meeting should cover a range of topics "which the United States government wants to talk about".
Maduro has called for a face-to-face conversation in the past. Before he left for the UNGA in New York, he said he hoped the 'miracle' meeting would happen.
"I'm even willing to talk to President Trump, I think if President Trump and I speak, we could understand each other," he said in Caracas.
Trump, under whose administration Venezuela has been hit with rounds of debilitating economic sanctions, did not rule out the meeting, but said it is not something that he's been giving any thought to.
"We're going to take care of Venezuela, if he's here and he wants to meet, it was not on my mind, it was not on my plate, but if I can help people that's what I'm here for," Trump stated on Wednesday.
Despite the conciliatory tone, Trump said that Washington would prefer to keep all options – including military ones – open.
"All options are on the table, every one. The strong ones and the less than strong ones – and you know what I mean by strong," he said.
Caracas has repeatedly accused Washington of stifling its economy with sanctions, and pursuing a policy of regime change in Venezuela, including by working with rogue army officers.
Venezuela pointed to a report in the New York times that claimed Washington had been holding secret talks with mutinous military figures throughout last year as evidence that the US is working to "encourage and promote violent actions of extremist factions."
While the White House has neither explicitly denied nor confirmed the report, a potential regime change scenario is something that the US appears to be anxiously looking forward to.
On Tuesday, Trump said that the Maduro government "could be toppled very quickly by the military if the military decides to do that," while labelling the country, ridden with economic and political problems, "a truly bad place in the world today." It was the same day Washington slapped sanctions on Maduro's wife and several other high-ranking officials.
Venezuela considers rounds of "illegal" sanctions against it to be acts of "economic war," and blames the US for the collapse of its economy.
"We have not been able to use the international currency of the US dollar. This has been economic trade persecution of Venezuela," Maduro said on Wednesday.
If you like this story, share it with a friend!
You can share this story on social media: