PHOTOS of Chinese 'secret railgun' mounted on ship emerge online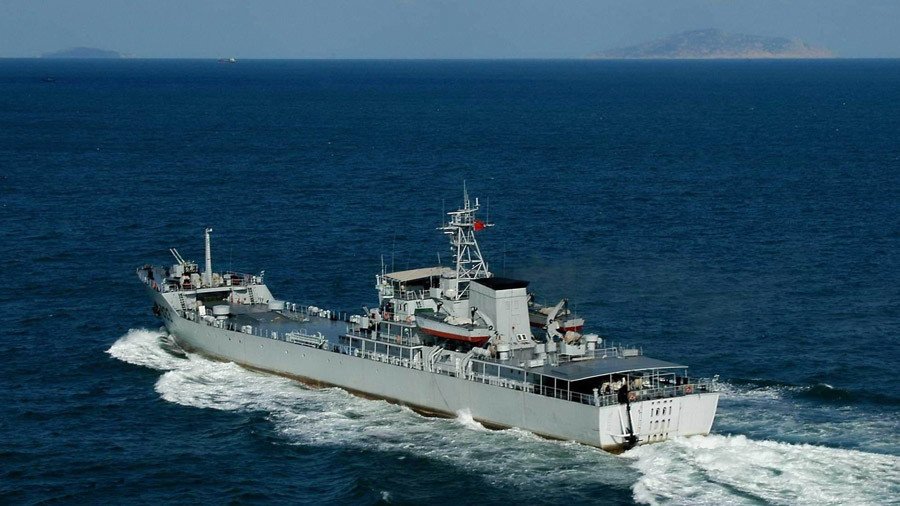 The Chinese military may be about to test a railgun at sea. A weapons system of a suitable size has been mounted on one of China's landing ships, along with several containers of what may be relevant equipment.
Photos of the Type 072 III ship 'Haiyangshan' of the People's Liberation Army Navy (PLAN) with a suspected railgun on its bow were published by Chinese defense watchers on January 31, reports the blog Navy Recognition. The time and location of the images were not detailed, but report suggest they may have been taken in the Wuhan province in central China.
The 119.5-meter Type 072III-class landing ships usually carry a H/PJ76F twin 37mm gun system on the bow. The photos of the 'Haiyangshan' show a different weapon: a turreted and partially covered gun that has some similarities with a railgun developed by BAE Systems. Its barrel has a larger diameter about half the length closer to the turret and a smaller diameter for the half closer to the business end.
At least three containers, possibly with electronic equipment and generators to provide extra power for the suspected railgun, were seen on the ship. If proven true, China could become the first nation to test a railgun weapons system at sea.
A railgun uses a powerful electrical current to accelerate a metal projectile along a path of conductive rails to supersonic speed. The technology could replace gunpowder-based munitions as large-caliber artillery, but has some drawbacks, including high power requirements and rapid wear of the barrel, which has to withstand high temperatures and stress during the shooting process.
The US was long considered the frontrunner in the race to advance the technology. Last year, the Office of Naval Research (ONR) demonstrated a multi-shot salvo test – in which two projectiles were fired by a railgun in quick succession to prove the weapon can sustain a high rate of fire. But the future of the American EMRG program, which was supposed to produce a weapons system for the Zumwalt-class destroyers by 2020, is in question due to high costs.
Like this story? Share it with a friend!
You can share this story on social media: