Kavanaugh drama: New accusations and a support letter from classmates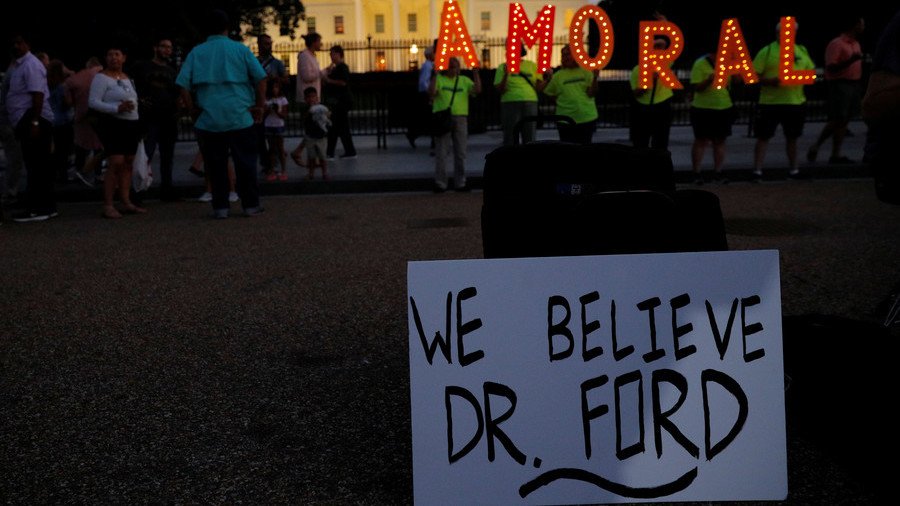 Fresh sex assault claims against Supreme Court nominee Brett Kavanaugh has surfaced, as Democrats demand delaying his hearing in the Senate. At the same time, the White House has released a letter of support from his classmates.
Senate Judiciary Committee staff asked Kavanaugh on Tuesday about an anonymous claim, sent to Senator Cory Gardner (R-Colorado) alleging he "physically assaulted a woman he socialized with in the Washington, D.C., area in 1998 while he was inebriated."
The author of the letter said her daughter's friend was "shoved" against a wall "very aggressively and sexually" by Kavanaugh after they left a bar under the influence of alcohol. "There were at least four witnesses including my daughter," the letter says. The author provided no names.
Another similarly anonymous accuser alleged Kavanaugh and his school friend Mark Judge sexually assaulted a woman on a boat in Newport, Rhode Island, and were later beaten up for it.
Kavanaugh denied the allegations in a phone conversation with the Judiciary Committee staff.
"It's ridiculous. Total Twilight Zone. And no, I've never done anything like that," Kavanaugh said.
Less than two hours prior, the White House had released a letter from 60 of Kavanaugh's high school classmates stating that they never met or heard of Julie Swetnick, the third woman to accuse the Supreme Court nominee of sexual misconduct.
60 of Brett Kavanaugh's classmates submit letter to the Senate Judiciary Committee strongly denying the allegations against the SCOTUS nominee and insist they've never even met anyone named Julie Swetnik. pic.twitter.com/egEHGfMbmj

— Ellen L. Carmichael (@ellencarmichael) September 26, 2018
"In the extensive amount of time we collectively spent with Brett, we do not recall having ever met someone named Julie Swetnick. Nor did we ever observe Brett engaging in any conduct resembling that described in Ms. Swetnick's declaration," the letter says, calling her accusations "nonsense."
Kavanaugh is a "man of honor, integrity, and compassion," the letter says. "These shameful attacks must end. This process is a disgrace and is harming good people."
Swetnick claimed that Kavanaugh was present at house parties during the 1980s where gang rapes would occur, and she herself was a victim of such a rape – though she stopped short of accusing the future circuit court judge and Supreme Court nominee of actually raping anyone. Her statement accuses Kavanaugh of "highly inappropriate" conduct which included being "overly aggressive with girls" and being a "mean drunk" who made jokes "designed to demean, humiliate and embarrass" women.
Kavanaugh described Swetnick's accusations as "ridiculous," adding "I don't know who this is and this never happened."
At a press conference in New York on Wednesday afternoon, President Donald Trump declined to comment on Swetnick's claims, saying he was a bit preoccupied at the UN to pay attention to the domestic scandals of the day, but dismissed her lawyer Michael Avenatti as a "lowlife."
Avenatti previously represented adult film actress Stormy Daniels, who claimed Trump's lawyer Michael Cohen paid her hush money ahead of the election and thus violated election rules. Cohen made a plea bargain with federal prosecutors last month, but the case fell far short of Avenatti's prediction of ending Trump's presidency.
Trump says Kavanaugh accuser could make him withdraw nomination
Asked about Kavanaugh's nomination, Trump repeated his characterization of Democrats' efforts to delay the proceedings as a "big fat con job."
"It's not going to change any of the Democrats' minds. They're obstructionists. They're actually con artists," Trump said, accusing the party of "smearing" Kavanaugh and his family.
If he could nominate Founding Father George Washington, Democrats would vote against him because of his shady past, Trump argued, adding that the attacks on Kavanaugh are creating a chilling effect on potential nominees for the Supreme Court and other judicial seats.
"When you are guilty until proven innocent, it's just not supposed to be that way," Trump said. "I think that is a very dangerous standard for our country."
However, he said he would listen attentively to the testimony of Christine Blasey Ford, Kavanaugh's first accuser and the only one willing to appear before the Senate, at the Judiciary Committee hearing scheduled for Thursday morning.
"I look forward to hearing from her. I would be interesting to hear what she has to say," Trump said.
"It's possible I'll hear that and say hey, I'm changing my mind. I could be persuaded."
It is still uncertain whether Ford will actually appear before the panel. As of Wednesday, her lawyers were still trying to make demands about the terms of her testimony. Senate Judiciary Committee chair Chuck Grassley (R-Iowa) has scheduled a vote on Kavanaugh's nomination for Friday.
If you like this story, share it with a friend!
You can share this story on social media: