Chinese national arrested in US for allegedly acting as agent of Beijing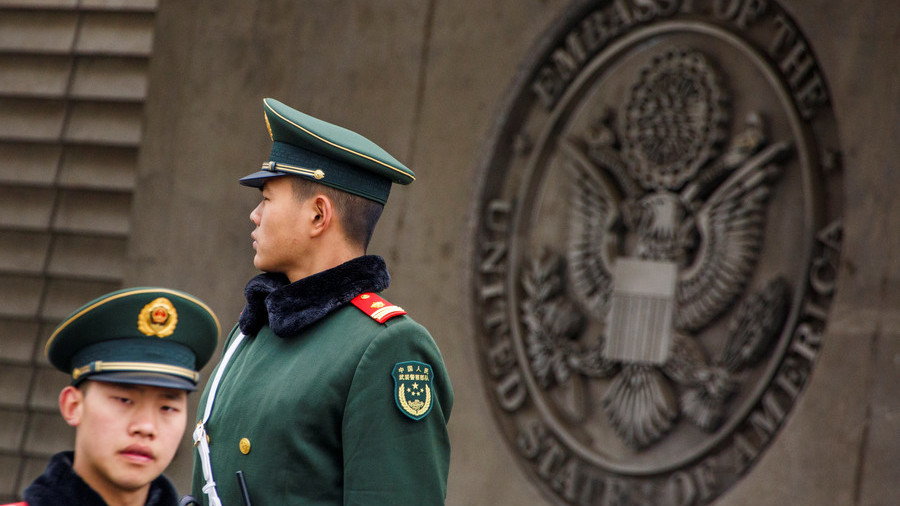 In a move likely to hit relations already soured by a bitter trade war and election interference accusations, the US has now arrested a Chinese national it accuses of working as an unregistered foreign agent.
Ji Chaoqun, 27, was arrested in Chicago on Tuesday. The Chinese national is suspected of working "at the direction of a high-level intelligence officer in the Jiangsu Province Ministry of State Security," the complaint against him claims. The intelligence officer allegedly asked him to provide information on engineers and scientists, including US defense contractors, who might be of interest to the ministry. Ji reportedly collected information on eight such individuals, including his fellow Chinese nationals working in the US. Ji reportedly collected information on eight such individuals, including his fellow Chinese nationals working in the US.
The man, who entered the US on a student visa to study electrical engineering, enlisted in the US Army Reserves in 2016 as a foreign specialist "vital to the national interest." In his application at the time, Ji "specifically denied having had contact with a foreign government within the past seven years," says the complaint.
Ji has been charged with one count of acting as an agent of a foreign government and will appear before a Chicago court on Tuesday evening.
If found guilty of knowingly acting on behalf of the Chinese government, having failed to notify the US attorney general as required by Section 951 of US Code, Ji faces up to 10 years behind bars.
Jiangsu Province Ministry of State Security is a local subdivision of the Chinese Ministry of State Security, an intelligence agency with a specific focus on counter-intelligence, foreign intelligence and political security.
The news comes amid reports that the US Department of Justice has ordered Xinhua news agency, China's flagship media, and Global Television Network (CGTN), to register under The Foreign Agents Registration Act (FARA). The Act, introduced in 1938 to counter Nazi propaganda and used later during the Cold War, was thrust back into spotlight in November last year, when RT America and Sputnik were forced to register under the controversial legislation.
The FARA, which targets primarily foreign persons and organizations doing political, PR or financial work, has been criticized by rights organization as a veiled attempt to silence dissenting media voices.
China has pushed back against the DOJ request, saying last week that countries "need to facilitate rather than obstruct media's normal work, still less politicizing their role."
Ji's arrest also comes as Washington and Beijing are locked in a major trade dispute. The US and China have already slapped import tariffs worth billions of dollars on each other's goods, while lingering trade negotiations to resolve the row have stalled.
On Tuesday, China's Vice Commerce Minister Wang Shouwen said that it was impossible for Beijing to negotiate while Washington churns out new punitive measures.
READ MORE:China denies meddling in US mid-term elections
"Now that the US has adopted this type of large-scale trade restrictions, they're holding a knife to someone's throat. Under these circumstances, how can negotiations proceed?" Wang said, after US tariffs on $200bn of Chinese goods came into force.
US President Donald Trump last week accused China of interfering with US elections "by attacking our farmers, ranchers and industrial workers," the core of Trump's vote base. Beijing has vehemently denied the allegations.
Like this story? Share it with a friend!
You can share this story on social media: