Arrested for disrupting Kavanaugh hearing? Don't worry, Soros will foot the bill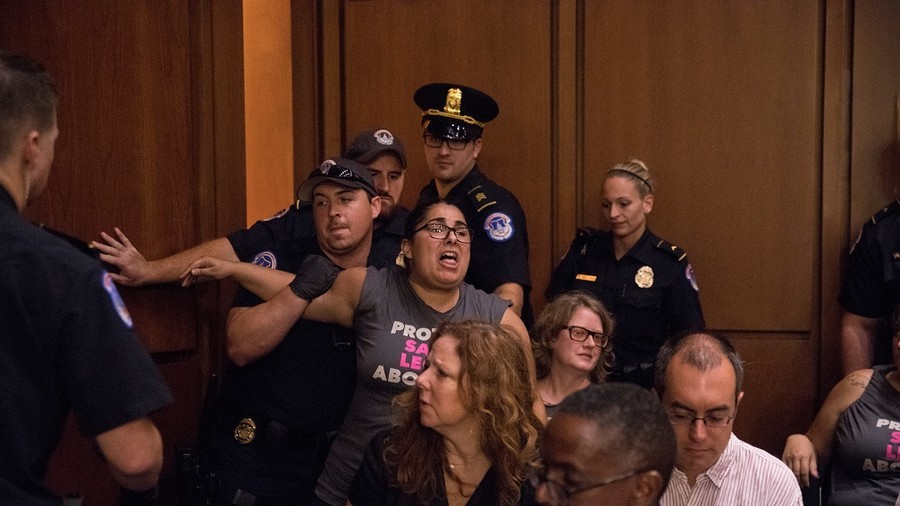 Protesters arrested at Supreme Court nominee Brett Kavanaugh's hearing are being organized by Democrat-linked groups and their legal bills are reportedly paid by activists funded by billionaire liberal financier George Soros.
Photos circulated two weeks ago purported to show activists being paid in cash after disrupting judge Kavanaugh's Senate confirmation hearings. The photos raised speculation over whether the disruptions were grassroots liberal activism or an example of astroturfed 'manufactured dissent,' funded by Democrats.
The latter has now been confirmed, according to conservative news outlet The Daily Caller, which reported that a coalition of left-wing organizations is scheduling interruptions and ponying up the post-and-forfeit bills – a small cash payment of around $50 to resolve the offense and avoid jail time – of those arrested. The organizations named include Women's March, the Center for Popular Democracy, and Housing Works.
The groups revealed the payments in a conference call on Monday that Daily Caller journalists said they listened in on. Any disruptors arriving at the hearings without cash could pick it up from activists outside before entering, and at least one lawyer would be present to provide free legal advice if necessary, representatives said during the call.
At least one of the groups represented in the call is funded by George Soros: the Center for Popular Democracy, which bills itself as promoting "powerful and democratic people's organizations," and a "pro-worker, pro-immigrant, racial and economic justice agenda."
While the CPD aims to "build on the power of communities" to achieve its goals, a vast chunk of the organization's funding comes from Democracy Alliance, a network of progressive donors founded by George Soros and fellow liberal billionaire donor Tom Steyer. The CPD is largely staffed by former members of ACORN, another Soros-funded organization that closed after being stripped of its federal funding in 2010, following a tax scandal.
Funding progressive causes is nothing new for Soros. Along with championing mass immigration and open borders policies in his native Europe, Soros has kicked in multiple six-figure donations for Democrats' Florida gubernatorial candidate Andrew Gillum ahead of November's election.
The Hungarian-born currency speculator most notorious for making a fortune by shorting the British pound in 1991 has also focused his 'philanthropy' on small-time district attorney races across the country, in a bid to reshape the US justice system in his own, ultra-progressive image.
Back in Washington DC, activists have planned to disrupt Kavanaugh's hearing scheduled for Monday. It is already guaranteed to be a contentious affair, after Senator Dianne Feinstein (D-California) revealed a previously withheld letter from a woman claiming Kavanaugh sexually assaulted her in high school.
Kavanaugh vehemently denies the allegations, and Republicans have slammed Feinstein for her apparent eleventh-hour attempt to derail the judge's confirmation. A public hearing has been schedule for Monday to address the allegations.
Soros' fingerprints can seemingly be found here too. Kavanaugh's accuser, a college professor named Christine Blasey Ford, is being represented by attorney Debra Katz. As well as handling Ford's legal case, Katz is the vice chair of the Project on Government Oversight, an organization funded by Soros' Open Society Foundations NGO.
POGO signed a letter to Feinstein and Senate Judiciary Committee chair Chuck Grassley (R-Iowa) demanding the committee stall Kavanaugh's nomination until further records could be released. Katz herself has made multiple donations to Democratic politicians and causes.
Kavanaugh's confirmation process has been a long and bitter one, with Democrats looking to draw it out past the first Monday in October when the Supreme Court is due to meet, and perhaps even until after November's midterm elections, when Democrats hope to retake a majority in the House and Senate.
The sex assault allegations have certainly emboldened left-wing activists. "Postponement isn't enough," Women's March co-president Bob Bland reportedly said during Monday's conference call, adding that he believes there is a "30 percent" chance Kavanaugh's nomination will be withdrawn or voted down.
"Just because they've delayed something doesn't mean we're done," said Housing Works coordinator Paul Davis. "It's actually going to get very very ugly."
Like this story? Share it with a friend!
You can share this story on social media: