Anne Hathaway denounces 'white privilege' at star-studded gala dinner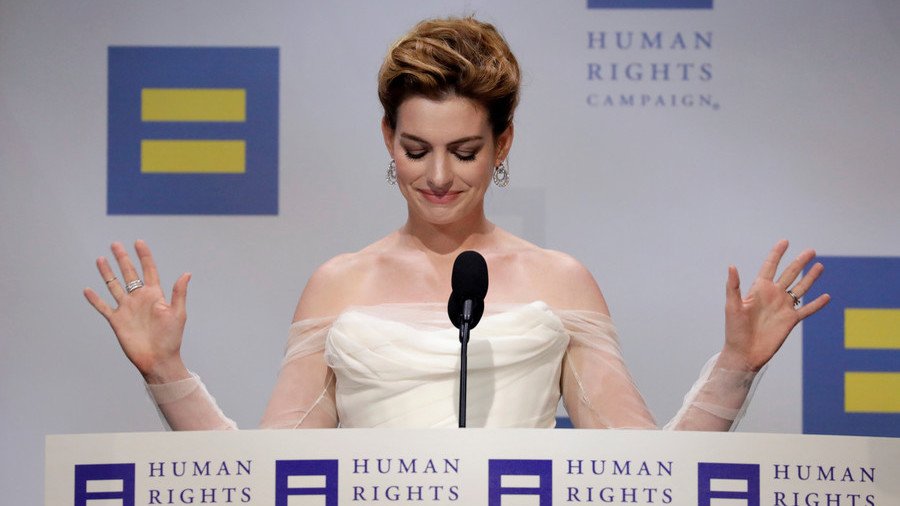 Hollywood actress Anne Hathaway took to the stage to bash white, straight, cisgender privilege, at an awards ceremony attended by a who's-who of Democrats, celebrities, and activists.
Hathaway, who is white, married (to a man) with a son, and among the world's highest-paid actresses, told the audience at the Human Rights Campaign's National Dinner on Saturday night that she is "scared" of anti-LGBT "bigots," and that her own privilege is part of a "damaging and widely accepted myth."
"It is important to acknowledge with the exception of being a cisgender male, everything about how I was born has put me at the current center of a damaging and widely accepted myth," she said.
Then, after addressing the crowd as "ladies, gentlemen, and geltlethem," Hathaway expounded on her beliefs, seemingly gleaned from plucking pages from random social sciences tomes and mainlining the Huffington Post daily.
"That myth is that gayness orbits around straightness, transgender orbits around cisgender, and that all races orbit around whiteness...this myth is wrong," she lectured, to whoops and cheers from the liberal crowd. According to Hathaway, this "myth" keeps money in the hands of the rich, like her, and out of the hands of "the free," whoever they may be.
Hathaway then congratulated former Vice President Joe Biden, who gave a speech as part of the same gala event, for giving "me my heart back." Biden, predictably, bashed President Trump and boasted of his own work to advance LGBT rights - Biden, for the record, publicly opposed gay marriage until 2012.
READ MORE: Joe Biden calls Trump supporters the 'dregs of society'
Other high profile attendees included progressive senators Cory Booker (D-New Jersey) and Kamala Harris (D-California), both of whom, along with Biden, are hotly tipped for a run at the presidency in 2020.
Hathaway, best known for her catsuit-clad appearance as Catwoman in 'The Dark Knight Rises,' told the progressive crowd that she would raise an LGBT army to destroy white, straight privilege once and for all.
"I appreciate this community because together we are not going to just question this myth, we are going to destroy it," she said. "Let's tear this world apart and build a better one."
Fiery virtue-signalling speeches are nothing new for Hathaway. In July, she wrote on Instagram that "White people- including me, including you, must take into the marrow of our privileged bones the truth that ALL black people fear for their lives DAILY in America."
Hathaway's woke pontification was broadly welcomed by social-justice types on Twitter. One commenter however, suggested that the multimillionaire actress had "overdosed on the Marxist Kool-Aid."
The white "liberal" savior complex doesn't even notice it's own narcissism in a moment when they think the world revolves around them.Virtue-signaling levels over 9000! pic.twitter.com/XwaRSAm0kp

— Hotep Jesus 🧠 (@VibeHi) September 16, 2018
Awards ceremonies are that special time of the year when Hollywood celebrities can indulge in their second-favorite pastime: fixing the world's problems. In terms of raw acting talent, Hathaway's speech paled in comparison to veteran actress Meryl Streep's tear-soaked anti-Trump speech at the 2017 Golden Globes. In terms of sheer insanity, it couldn't hold a candle to Johnny Depp's suggestion that someone assassinate Trump, delivered drunkenly at the Glastonbury performing arts festival last year.
Like this story? Share it with a friend!
You can share this story on social media: