'Dregs of society' who attack LGBT community found an ally in the White House – Joe Biden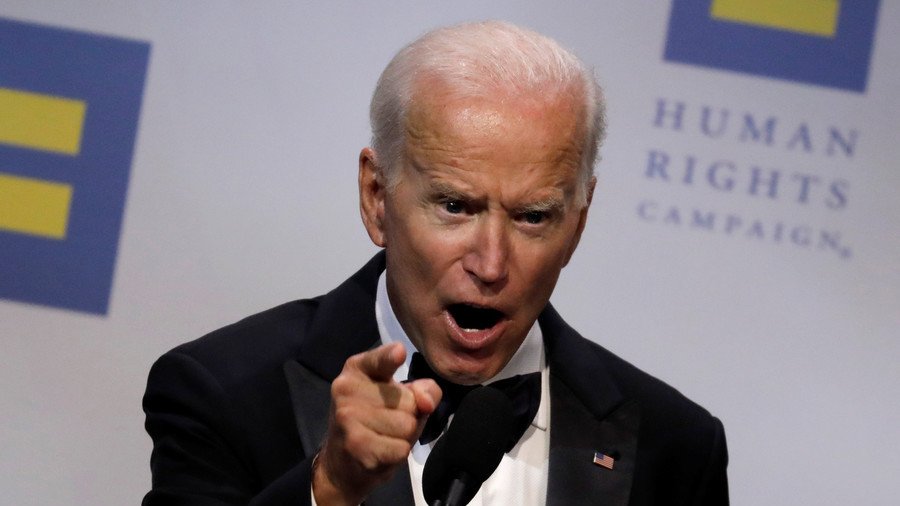 Former VP Joe Biden called those who attack the LGBT community the "dregs of society" in an impassioned speech at a charity event. He said that this "small percentage" of anti-LGBT people have found an ally in the White House.
Editor's note:The headline and summary of the article erroneously claimed that Joe Biden said that Trump supporters are the "dregs of society." The article was amended to clarify the context of Biden's comments.
While speaking to the crowd at the Human Rights Campaign dinner in Washington on Saturday night, Biden lamented the fact that "virulent people" and the "dregs of society" have a friend in the White House.
"Despite losing in the courts and in the court of public opinion, these forces of intolerance remain determined to undermine and roll back the progress you all have made," he argued.
READ MORE: Party at war with itself: DNC facing insurgency from its progressive base
"This time they — not you — have an ally in the White House. They're a small percentage of the American people, virulent people," he continued. "Some of them the dregs of society.
"And instead of using the full might of the executive branch to secure justice, dignity [and] safety for all, the president uses the White House as a literal, literal bully pulpit, callously exerting his power over those who have little or none."
READ MORE: 'I miss them so much': DC gets misty-eyed as Obama and Biden drop by Georgetown bakery
Biden also asked for God's forgiveness for not speaking out against President Trump sooner. Biden said he and former president Barack Obama agreed to stay silent for a while to give the new administration the "chance to get up and running in the first year".
"God forgive me", he added before blessing himself with the sign of the cross. Biden's wife Jill then reassured the crowd by saying the couple no longer plan on remaining silent and now want to "pick a fight" against bullies.
The president eldest son, Donald Trump Jr., said this time "creepy Joe's" comments "went too far". Biden says he'll decide in January whether he'll run for president in 2020. He did reply "thank you" to the supporters who yelled "run Joe!" at the end of his speech.
Think your friends would be interested? Share this story!
You can share this story on social media: