'I miss them so much': DC gets misty-eyed as Obama and Biden drop by Georgetown bakery
Published time: 30 Jul, 2018 23:08
Edited time: 8 Aug, 2018 11:26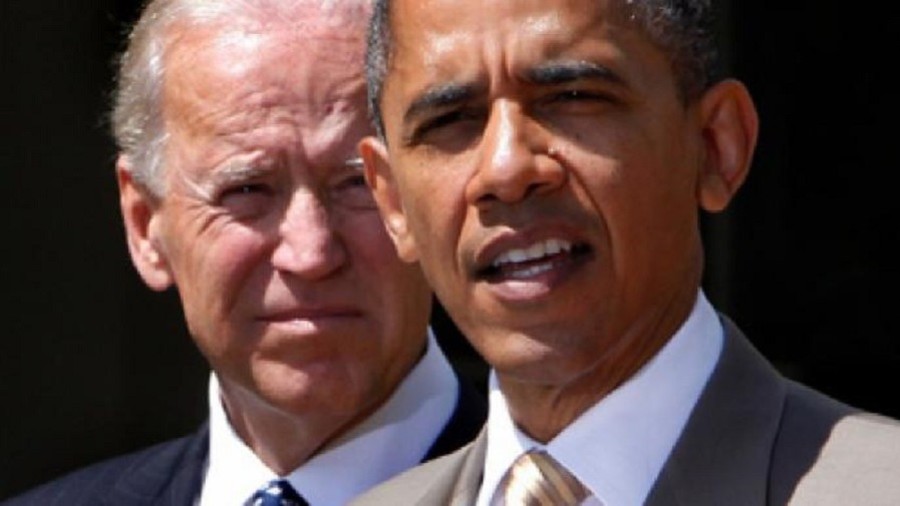 Many Americans still pine for the days when Barack Obama and Joe Biden were in the White House, judging by the reactions to the former president and VP's lunch at a bakery in Georgetown, an affluent part of Washington, DC.
Obama and Biden stopped by the Dog Tag Bakery in Georgetown on Monday, mingling with the customers and ordering sandwiches and salads. The bakery posted a video of them ordering lunch, with Biden at one point referring to Obama as "the boss."
"I think I gotta have one of those," the former president says, pointing to the sandwich Biden had just ordered.
"Give the boss one of those, too," Biden tells the cashier.
Fans of the duo were quick to chime in, lamenting the fact that Obama and Biden were no longer in the White House, noting how they "miss them so much," and wishing they could be back somehow. There was even a meme, based on a photo from inside the establishment.
As local media pointed out, their choice of venue may not have been solely motivated by the quality of sandwiches. The bakery, which opened in 2015, is a nonprofit designed to help military veterans transition into business careers. Workers who enlist in a six-month work-study program also take business classes at Georgetown University.
Back in town from a recent visit to South Africa, Obama turned heads at Sunday's Beyonce-Jay Z concert as well, with dozens of fans ignoring Queen Bey to snap pictures of the former POTUS instead.
Beyonce fans and customers of boutique Georgetown bakeries weren't the only ones dreaming about the return of the Obama-Biden era. On Sunday, the New York Times ran an article charitably described as fan fiction, about current President Donald Trump losing the 2020 election to a Democrat.