Pentagon 'routinely' briefs Trump on 'military options' in case of chemical attack in Syria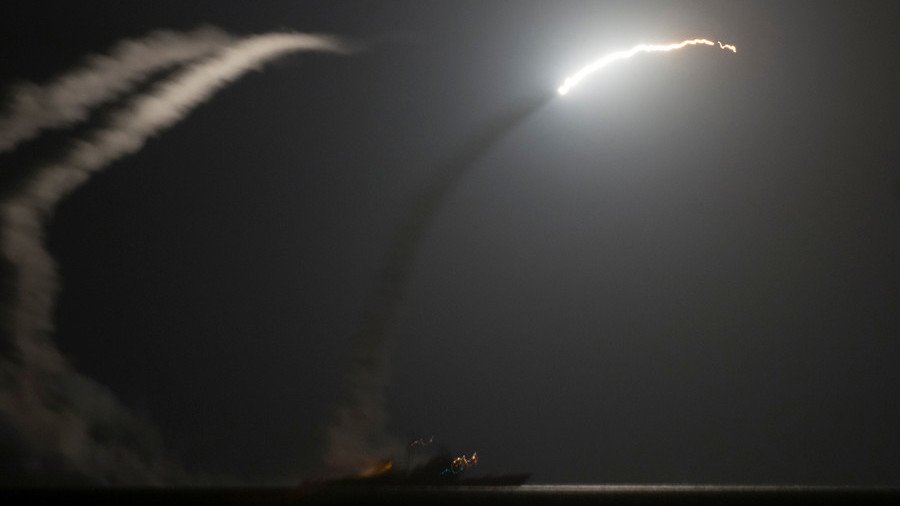 While no final decision has yet been made, a top US general says he's involved in "routine dialogue" with Donald Trump to keep him informed about "military options" for retaliation in case "chemical weapons are used" in Syria.
"We are in a dialogue, a routine dialogue, with the president to make sure he knows where we are with regard to planning in the event that chemical weapons are used," Marine General Joseph Dunford, chairman of the Joint Chiefs of Staff, said on Saturday. "He expects us to have military options and we have provided updates to him on the development of those military options."
Fears of a looming 'chemical incident' in Syria have intensified recently, as the Syrian government closes in on Islamist militants' last major stronghold in Idlib province. Russia, for over a month, has been warning that the terrorists, cornered and desperate, are preparing a false-flag attack to frame Damascus and trigger a US-coalition intervention.
READ MORE: Psychic Haley knows 'exactly' who's responsible for the next chemical attack in Syria
However, the US and its allies continue to insist that there is "zero intelligence that shows the opposition has any chemical capability" or motives to stage a false-flag attack, implying that any future incident would automatically be blamed on Damascus. The US and France – which, along with the UK, jointly struck Syria in 'retaliation' for the previous and yet-to-be-investigated chemical incident last April – have already warned that they are ready to conduct more strikes against Syria.
"The alleged intention of the Syrian government to use poisonous substances in Idlib is presented as a fait accompli," Russian representative at the UN, Vassily Nebenzia, said earlier this week. However, the US and its allies have not concerned themselves with any explanation for the already war-torn state's motives for poisoning Syrian civilians, he added. "The Syrian authorities do not need [the attack], but the terrorists, for whom it's a way to provoke an aggression against Damascus, really do," Nebenzia told the meeting.
READ MORE: Driving out militants from Syria's Idlib now top priority – Putin
While the Pentagon is drawing up plans should chemical weapons come into play, the leaders of Turkey, Russia and Iran met in Tehran to discuss a course of action to remove terrorists from Idlib. In a final statement, the leaders of the so-called Astana peace process agreed to eliminate all terrorist elements from the province, stressing that the solution to the Syrian crisis can only be negotiated through a political settlement.
"We hope that the representatives of terrorist organizations will wisen up, stop putting up resistance and lay down their arms," Vladimir Putin said after the Tehran summit.
Think your friends would be interested? Share this story!
You can share this story on social media: