France 'ready to strike' Syria if chemical weapons used during Idlib offensive – army chief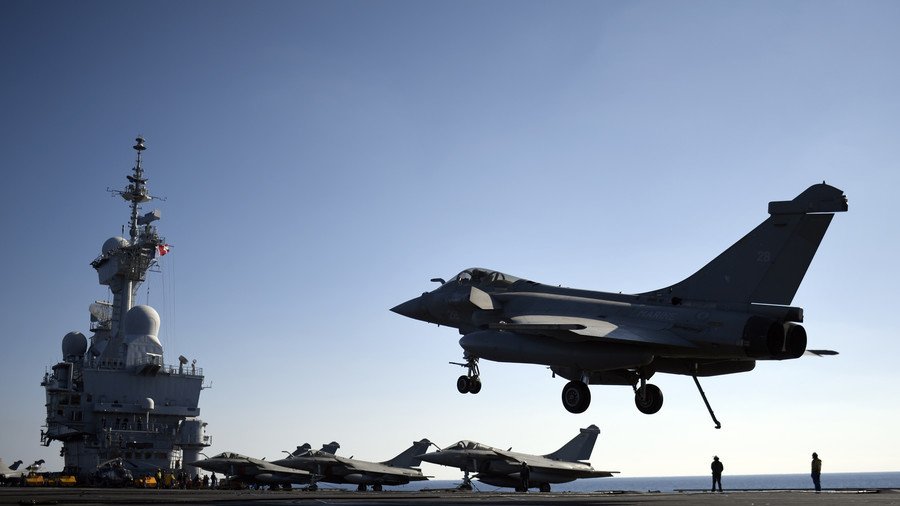 France's top military chief has said Paris is ready to bomb Syria if chemical weapons are used during the Syrian government's retaking of Idlib province. It comes a week after Russia warned the US of a pending false flag attack.
"We are ready to strike if chemical weapons were used again," Armed Forces Chief Francois Lecointre told a small group of reporters Thursday.
"They can be carried out at national level but it's in our interest to do it with as many partners as possible," he added.
The threats come a week after the Russian Ambassador to the US Anatoly Antonov warned top diplomats in Washington that militants in Idlib were planning a false-flag chemical attack, in order to frame the government of Bashar Assad as his forces prepare for an offensive to recapture the northern province.
US President Donald Trump too has warned Assad over the Idlib offensive, tweeting on Monday that his forces must not "recklessly attack" the province. The US earlier stated that it would "retaliate" against any chemical attacks by the Syrian government, using more firepower than it did back in April.
France joined the US and the UK as partners in the April strikes, launching more than 100 missiles at Syrian government targets. The move was in retaliation for an alleged poison gas attack in the city of Douma, 10km northeast of Damascus.
French involvement saw three cruise missiles launched from French Navy frigates deployed in the eastern Mediterranean, while French Air Force Rafale fighter jets launched nine airborne missiles. However, several salvos malfunctioned.
In the aftermath of the strikes, French President Emmanuel Macron defended the coalition's actions, saying that "history will judge" whether the operation was justified.
Notably, the bombardment was carried out hours before the first experts from the Organization for Prohibition of Chemical Weapons were due to arrive in the area of the suspected assault.
The Western narrative that Damascus was responsible for the alleged gas attack has also been called into question in the months since the April bombing.
An interim report published by specialists from the Organization for the Prohibition of Chemical Weapons (OPCW) said it found no traces of nerve agents at the site of the suspected chemical attack in the Syrian city of Douma.
Western journalists too have countered the mainstream media's claims. Speaking to citizens of Douma after fighters from the jihadist group Jaish Al-Islam left the city for Idlib in April, the Independent's Robert Fisk found that many he talked to had "never believed in" gas stories.
Instead, they attributed poison gas claims to stories put out by armed groups.
Subscribe to RT newsletter to get stories the mainstream media won't tell you.
You can share this story on social media: