Nerve agents not found in samples from Syria's Douma – interim OPCW report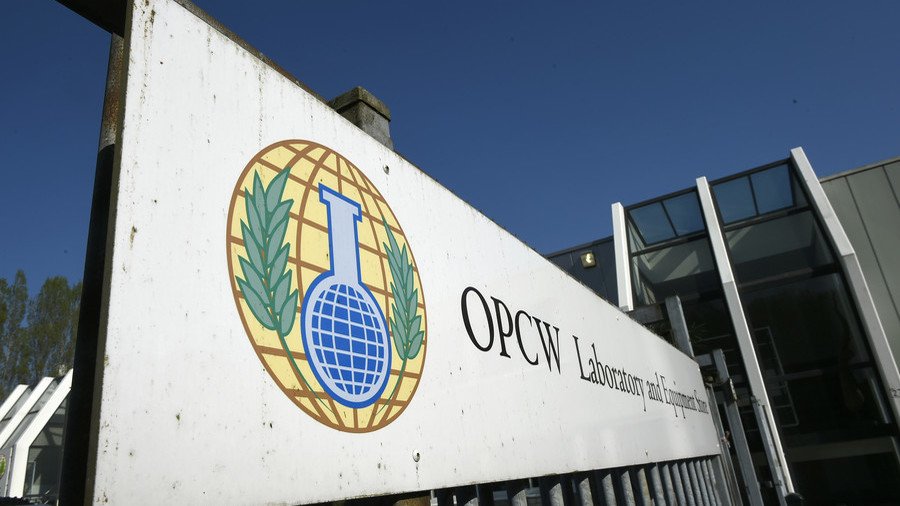 No traces of any nerve agents have been found at the site of a suspected chemical attack in the Syrian city of Douma, an interim report issued by the OPCW says, adding that several chlorine compounds were detected.
"Various chlorinated organic chemicals were found in samples" from two locations in the Damascus suburb of Douma, which were examined by specialists from the Organization for the Prohibition of Chemical Weapons (OPCW), an interim OPCW document said. The chemicals were found in two samples taken from canisters found in Douma, the report said. The report confirmed the absence of any traces of nerve agents, such as sarin, at the site.
Technical notes in the OPCW report specify that one of its laboratories found traces of dichloroacetic acid, trichloroacetic acid, chloral hydrate, trichlorophenol and chlorophenol in some of the samples. Some of these chemicals, such as dichloroacetic acid and chloral hydrate, are known byproducts of water purification. Another OPCW laboratory only reported finding "no CWC-scheduled chemicals," meaning nothing that was banned under the Chemical Weapons Convention.
The OPCW sent a fact-finding mission to Douma in April, around a week after the alleged incident. During the same month, Russia said that chlorine containers from Germany, which apparently belonged to militants, were found in the liberated parts of Douma.
Later, the Russian military found an entire laboratory operated by militants in central Douma, which was capable of producing chemical weapons. The lab had some sophisticated equipment, including an industrial chemical reactor, which was apparently used by the militants to create toxic agents. The footage, taken by Russian journalists inside the facility, also showed vast stockpiles of various chemicals, some of which were produced in Germany, as well as empty mortar shells that can be filled with poisonous substances.
The purported chemical incident in Douma allegedly took place on April 7. A week later, Washington and its allies launched a massive retaliatory missile strike against Syria, without waiting for the OPCW to start its investigation of the incident.
The OPCW report comes about a week after the OPCW was granted authority not only to investigate whether any alleged chemical attack took place, but also to assign blame for them. Moscow then warned that the move that actually drove a wedge between some key OPCW members could lead to a situation, which the chemical watchdog would be used as a political tool.
You can share this story on social media: