Containers with chlorine from Germany, smoke bombs from UK's Salisbury found in E. Ghouta – Moscow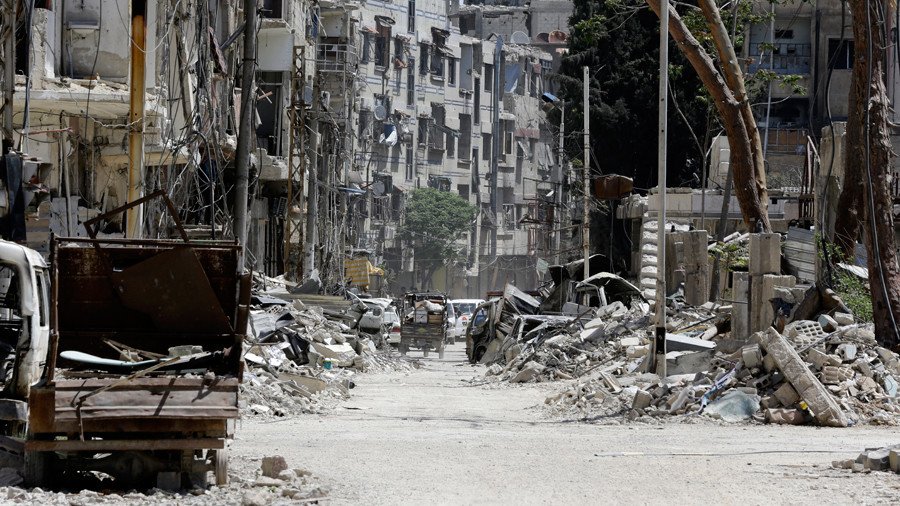 Containers with chlorine from Germany and smoke grenades produced in Salisbury, UK were found in the liberated territories of Syria's Eastern Ghouta, Russian Foreign Ministry spokesperson Maria Zakharova has stated.
"In the liberated areas of Eastern Ghouta, Syrian government troops have found containers with chlorine – the most horrible kind of chemical weapons – from Germany, and also smoke grenades produced – please pay attention [to this] – in the city of Salisbury, the UK," Zakharova told a news conference in Moscow on Thursday.
The findings undermine "the faith in humaneness" of some states' leadership, who "give such orders and make such decisions," Zakharova added.
READ MORE: Militants blocking OPCW inspectors from 'chem-attack' site in Douma – Russian deputy FM
Prior to the alleged chemical incident in Douma, which was used by the US, the UK and France as a pretext for striking Syria last Saturday, Russia had repeatedly warned about possible provocations by the militants, according to the spokesperson. Moscow had also sent data to the Organization for Prohibition of Chemical Weapons (OPCW) on chemical-weapons production facilities in the liberated areas of Eastern Ghouta.
Western leaders' allegations that the Syrian government was behind the Douma attack were based on "open sources" and information on social media, including the reports of so-called civil defense group, the White Helmets. The group is believed to be linked to militants and operates in the areas under their control.
The airstrike occurred just ahead of the arrival of an OPCW fact-finding mission tasked with establishing whether any chemical attack had taken place. The team of chemical-watchdog experts still can't reach the site of the purported attack, as militants have hampered their work, according to Russian Deputy Foreign Minister Mikhail Bogdanov.
You can share this story on social media: