Russia gives US intel on planned chemical weapons provocation in Syria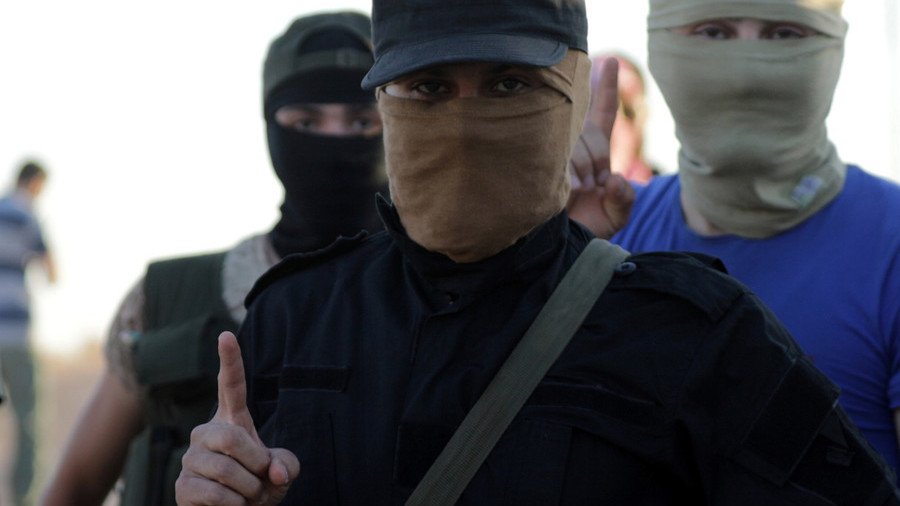 Moscow has briefed US diplomats on a plan by militants to stage a false flag chemical weapons attack in Syria's Idlib province meant to frame Damascus, the Russian ambassador in the US has said.
Anatoly Antonov, the Russian ambassador in Washington, confirmed to the media on Wednesday that he had met with the US special representative to Syria, James Jeffrey, and David M. Satterfield, acting assistant secretary of state for near eastern affairs.
The attendees of the rare meeting and the fact that it had taken place earlier this week was revealed by US State Department spokesperson Heather Nauert during a daily briefing.
The meeting was called by Russia on Friday and held on Monday, August 27, Antonov said. He commended the US side for coming at such short notice, and described the meeting as "constructive and professional."
At the meeting, Russia officially conveyed its concerns over reports that Washington together with France and the UK is gearing up for another set of airstrikes in Syria under the pretext of a chemical attack, that would immediately be blamed on the Syrian government. Moscow has asked Washington to "provide the facts without delay" to substantiate the new allegations that Damascus uses chemical weapons against its own people.
Such rhetoric fanned by Washington may prompt militants and their "pseudo-humanitarian" organizations like the White Helmets to mount another provocation using chemical agents, Antonov warned.
Intelligence that Russia has gathered has been shared with the US, and the diplomats were told "in detail" about the provocation against civilians being prepared by Al-Nusra Front (now known as Tahrir al-Sham) in the northwestern province of Idlib.
The Russian Defense Ministry reported earlier that Tahrir al-Sham was plotting a chemical attack that would then be misrepresented as another "atrocity" by the "Syrian regime." Eight canisters of chlorine have been delivered to a village near Jisr al-Shughur city, and a specially trained group of militants, prepped by the British security company Olive, also arrived in the area to imitate a rescue operation to save the civilian "victims." Militants plan to use child hostages in the staged incident, according to Antonov.
Moscow cautioned Washington against falling for this provocation, noting that a massive airstrike targeting Syria's military and civilian infrastructure will constitute another act of "groundless and illegal aggression" against Syria.
"A new escalation in Syria does not correspond to interests of any party. We believe that our concern will be heard," Antonov said, adding that he hopes the US "will take every effort to prevent terrorists from using toxic chemicals and will be acting responsibly, in accordance with the status of the UN Security Council permanent member."
President Trump's National Security Advisor John Bolton stated last week that the US "will respond very strongly" in case of a chemical attack by Damascus. The warning was interpreted by the Russian Defense Ministry as a veiled confirmation that the US has been considering an airstrike on Syria similar to the one it carried out in April, alongside France and the UK.
Unlike Damascus, militants have plenty to gain from a potential chemical attack in Idlib, former Pentagon official Michael Maloof told RT.
"They are not going to give up, they are not going to stop and try to negotiate any kind of peace, so it's to their benefit to try and raise international sympathy that they have been the victim once again and try and turn this war in their favor," he said.
There is little hope that the US will treat a potential false flag attack by hardline militants in any way differently than it did the chemical incident in the town of Douma on April 7, 2018, Maloof added.
Back then, the US, France and the UK launched a series of strikes against multiple targets in Syria just seven days after reports that some 70 people were killed due to exposure to a highly toxic chemical agent, possibly sarin.
"If history is any precedent, they won't bother. They did not investigate the last episode before they launched a missile attack into Syria and there's no reason to suspect that they will this time either," he said, adding that Washington will not hesitate to point the finger at Damascus and the Russian government.
"The whole idea is to embarrass Moscow and to intimidate Damascus," he said.
You can share this story on social media: