Does Twitter really care about pluralism and free speech? Let's follow the money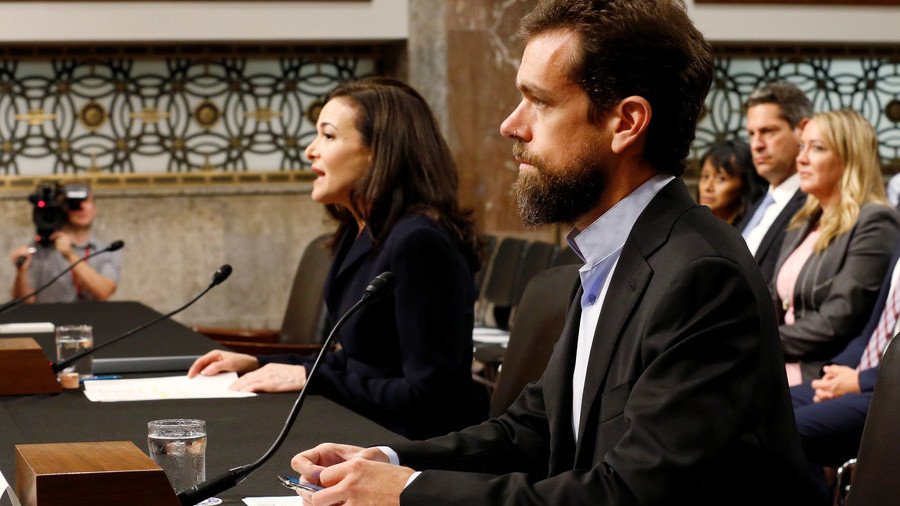 Twitter CEO Jack Dorsey has vigorously defended his platform as a place for free speech and political pluralism, but there's one easy way to determine how much he really cares about all of that: Look at who Twitter gives money to.
In testimony to the US Senate Intelligence Committee on Wednesday, Dorsey proudly reminded senators that Twitter had last year banned advertising from RT and Sputnik. Then, presumably as some kind of gesture of apology, he said Twitter donated $1.9 million generated from RT and Sputnik advertising to "research" and "civil society" platforms working to counter Russian influence online.
When Twitter first announced that decision in October 2017, it said it was part of its "ongoing commitment to help protect the integrity of the user experience" and admitted that it had made the decision in light of a US intelligence community report that concluded that Russia "attempted to interfere" with the 2016 presidential election. That report was widely panned as being extremely light on evidence, even by journalists who are generally highly critical of Moscow.
To put it simply, Dorsey admitted banning RT from advertising on its platform and then handing the money generated from previous advertising over to US government-funded think tanks. This kind of capitulation suggests that Dorsey believes free speech and pluralism is limited to how he treats Americans of different political persuasions on his platform, but not how he treats everyone else.
When Dorsey talks about giving everyone a fair shake on Twitter and ensuring that political bias does not get in the way of how Twitter functions, he seems to only ever be talking about the "health" of the debate and conversation when it comes to American political discourse — but not everyone using Twitter is an American politic worried about being "shadowbanned".
In other words, he's implying that while all American individuals should indeed be treated fairly, more broadly speaking, it's totally fine to be openly and proudly biased in favor of American foreign policy, despite the fact that Twitter is supposed to be a global platform. Twitter is a tool of the US government in much the same way Facebook is. So let's look at those organizations Dorsey has given money to:
The Atlantic Council
To see that Twitter has offered money to none other than the Atlantic Council to help "research" flimsy claims of election interference by Russia should immediately set off alarm bells.
The Atlantic Council has become widely regarded outside of Washington political and media circles as a vehicle for Western foreign policy promotion and propaganda. The Washington DC-based think tank is funded by a slew of American weapons manufacturers, including Lockheed Martin, Raytheon, Boeing and Northrop Grumman. The Atlantic Council is also funded by both the US government and a number of other NATO countries through various government agencies. Facebook is also a donor.
Unsurprisingly, given its donors list, the AC has lobbied consistently in favor of US military interventions around the world and has taken an almost exclusively negative view of Russia in international affairs. Is this think tank, funded by NATO governments and weapons makers really the kind of organization that can be trusted to fairly assess claims of Russian interference in American elections?
EU Disinfolab
Similar to the Atlantic Council, the Brussels-based EU Disinfolab has focused a huge amount of its attention on countering Russia online in recent years. Its stated mission is to "fight disinformation with innovative methodology" — but it certainly does not focus its attention evenly when it comes to fighting disinformation.
Disinfolab has drawn much criticism last month when it attempted to brand French Twitter users posting about a national scandal involving President Emmanuel Macron's former bodyguard as "Russophiles" who were part of the "Russian disinformation system". More of Twitter's "research" money well spent?
Disinfo lab is also partnered with the Brussels-based European Values think tank which made headlines last year when it published a list of 2,327 people who had appeared as guests on RT, branding them all "useful idiots"  for their appearances on the channel. Included on the list were the likes of journalist Bob Woodward, former US Vice President Dick Cheney, actors Denzel Washington and Pierce Brosnan and the late Secretary-General of the United Nations, Kofi Annan.
Partners in fight against US 'adversaries', rather than 'neutral arbiters'?
If any more evidence was needed that Twitter happily acts as a vehicle for US government propaganda, the Senate hearing on Wednesday provided it in abundance. When Senator Tom Cotton (R-Arizona) asked Dorsey and Sheryl Sandberg, who was also present to give testimony on behalf of Facebook, if they would ever take any kind of action that would favor or "privilege" a "hostile foreign power" over the United States or its military, both Dorsey and Sandberg said no, they would not. It was only when Cotton asked "Do you prefer to see America remain the world's dominant global superpower?" that Dorsey declined to answer directly, offering: "I prefer that we continue to help everywhere we serve."
Cotton later suggested to Dorsey and Sandberg that Facebook and Twitter should be actively working on behalf of the US government and not acting as "even handed or neutral arbiters".
The subdued responses from Sandberg and Dorsey to Cotton's questions, clearly both afraid to say anything that would suggest their platforms are not there to serve US government interests, seemed to suggest that they have little interest in challenging the assumption that their job is to work on behalf of the White House against "bad actors" around the world.
During the hearing Senator Mark Warner (D-Virginia) told Sandberg and Dorsey that while they had come a "long way" in recognizing the threat posed by Russia's "malicious activities" on their platforms, there was still "a lot of work to do". Warner said it was unlikely that Facebook and Twitter could combat Russia alone without some action from Congress itself, declaring that the "era of the wild west in social media is coming to an end".
It looks like when it comes to censorship and US government influence over social media platforms, this is just the beginning.
Subscribe to RT newsletter to get stories the mainstream media won't tell you.
You can share this story on social media: