Twitter permanently bans Alex Jones and Infowars for 'abusive behavior'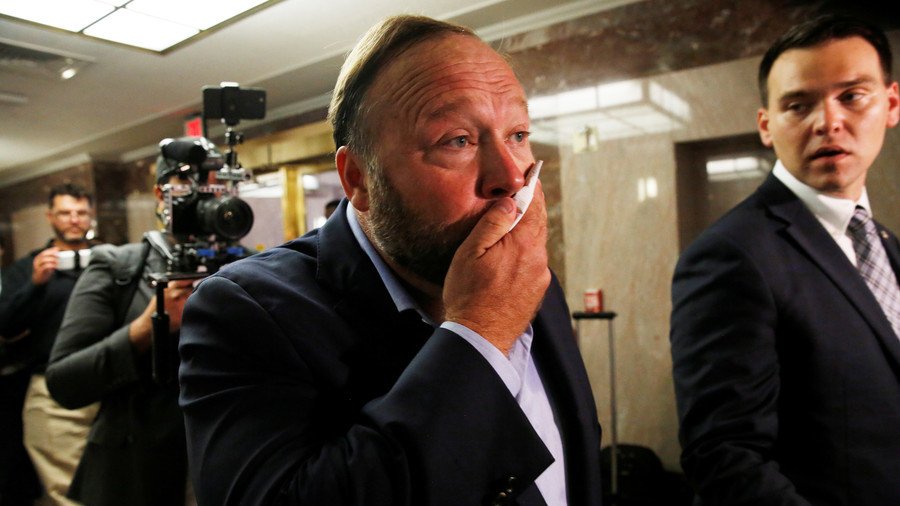 Twitter has permanently banned Alex Jones and Infowars from its platforms for "abusive behavior," after the controversial conservative pundit was filmed berating a CNN journalist on the sidelines of a Senate social media hearing.
"Today, we permanently suspended @realalexjones and @infowars from Twitter and Periscope," Twitter said. "We took this action based on new reports of tweets and videos posted yesterday that violate our abusive behavior policy, in addition to the accounts' previous violations."
The company added that it will continue to hunt for "other accounts potentially associated" with Alex Jones to prevent any attempts to circumvent the ban.
"I was taken down not because we lie but because we tell the truth and because we were popular, and because we dared to go to that committee hearing and stand up to Rubio, stand up to the lies of mainstream media and speak the truth," Jones stated following his suspension.
"And then we ran into Oliver Darcy, who is the secret police captain, who admits he goes around and gets people like Infowars taken off other platforms because we confronted that monster that has abused us and lied about us," Jones said about the encounter that reportedly got him banned.
Prior to his suspension, the commentator had around 900,000 followers on Twitter, while his Infowars account was popular with roughly 430,000 users. Calling the ban an act of "war" against conservative voices, Jones urged his supporters to resist "the full-on assault on this country."
"This signifies that gloves are off, they are trying to destroy our basic birthright of the First Amendment," Jones added. "The political establishment does not like Democrats or Republicans being challenged and they want to go out after the president… They are panicking, they are scared. They are making a move against all of us."
Twitter banned Jones from its platforms a day after the company's chief executive, Jack Dorsey, testified before Congress, where he insisted that Twitter was impartial and denied any political bias against conservatives.
On the sidelines of Wednesday's hearings, in which Facebook and Twitter participated, Jones could not contain his rage, and clashed with Sen. Marco Rubio over political censorship by the Silicon Valley giants. He later confronted CNN journalist Oliver Darcy in a Capitol Hill hallway, and recorded himself aggressively heckling his 'biased' reporting and attacking his appearance.
Back in August ,Jones' website, Infowars, was banned from Facebook, YouTube, and Apple over alleged violations of their community standards and spreading "hate speech." The controversial commentator was also temporarily banned from using Twitter after he used the platform to call on US President Donald Trump to "take action" against tech companies for censoring his content. The controversy around Jones sparked a fierce debate about free speech in the country and the rise of political censorship by private tech companies.
Like this story? Share it with a friend!
You can share this story on social media: