Censorship or battle against hate & abuse? Infowars Twitter ban fuels free speech debate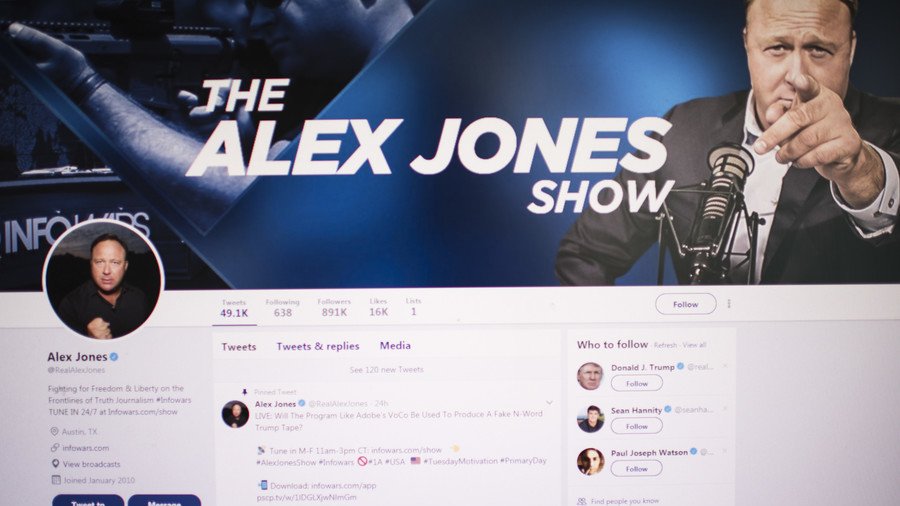 Twitter's move to ban controversial political commentator Alex Jones from the platform has been cheered by critics but called 'unconstitutional' by supporters, reigniting a fierce debate about freedom of speech and censorship.
There was visible rejoice on Twitter that the company had finally found an excuse to follow other tech giants by banning the notorious 'conspiracy theorist' from its platforms. However, many voices slammed the move as "unconstitutional." Others argued that, while First Amendment concerns do not technically apply in this case, the ban certainly goes "against the spirit of free speech."
"It is axiomatic that wherever and whenever anyone is banned or censored from any medium, audience or platform, questions as to the abridgement of freedoms of expression and speech arise," media analyst Lionel told RT.
"While one could argue that classic First Amendment considerations are inapposite as this is a 'private company' and not the government, in actuality, many constitutional scholars are asking the question whether these hoary distinctions are relevant in view of social media's enormity."
Irrespective of whose voice is blocked or censored and for what reason, Lionel believes the process must be more transparent and objective. "Intrinsic to any notion of due process is the idea of notice and the opportunity to be heard. Are the particular reasons for banning cited and does the banned individual have a process to address and contest the findings?"
Lionel's additional concern is whether the "system of parity" is maintained, or if there's any bias behind the process. "Are bans seen across the board irrespective of political ideology or position and for reasons of threatening deportment and the like? Is there selective enforcement?"
READ MORE: Twitter permanently bans Alex Jones and Infowars for 'abusive behavior'
Meanwhile, a heated debate on the issue continues on Twitter following Jones' ban. While some keep accusing Twitter of political bias and abuse of power in their battle against "hate speech," many others are cheering the move and go so far as to wonder when the tech giant will suspend Donald Trump, who is notorious for using the platform to attack his critics.
Subscribe to the RT newsletter to get stories the mainstream media won't tell you.
You can share this story on social media: