'Treason or fake news?' Trump urges NYT to reveal its White House 'resistance' insider
Published time: 6 Sep, 2018 00:26
Edited time: 6 Sep, 2018 10:20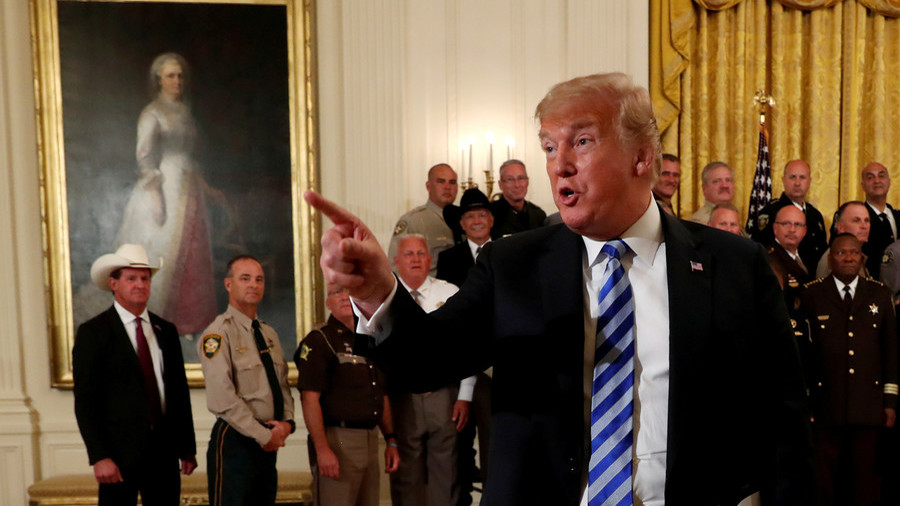 Furious over an article allegedly penned by a senior official who claims to be a part of the White House resistance working against Trump, the US leader has urged the New York Times to reveal its "phony" anonymous source.
"TREASON?" Trump tweeted in response to the piece entitled "I Am Part of the Resistance Inside the Trump Administration." The US leader further questioned whether the alleged "Senior Administration Official" really exists, and urged the paper to reveal its source in the name of national security.
"If the GUTLESS anonymous person does indeed exist, the Times must, for National Security purposes, turn him/her over to government at once!" the president said.
Does the so-called "Senior Administration Official" really exist, or is it just the Failing New York Times with another phony source? If the GUTLESS anonymous person does indeed exist, the Times must, for National Security purposes, turn him/her over to government at once!

— Donald J. Trump (@realDonaldTrump) September 5, 2018
In the anonymous essay, the US president is painted as the enemy of the people with little concern for American values or the Republican agenda. "The root of the problem is the president's amorality," the author wrote, claiming that anyone who works with Trump knows he is not "moored to any discernible first principles that guide his decision making."
"That is why many Trump appointees have vowed to do what we can to preserve our democratic institutions while thwarting Mr. Trump's more misguided impulses until he is out of office," the alleged White House official wrote a day after Trump and his aides challenged the narrative of Bob Woodward's new book critical of Trump.
Trump vented his rage earlier in the day in front of a group of law enforcement officials, calling the piece a "gutless editorial," and criticizing the media for constantly attacking him. "If I weren't here, I'd believe The New York Times probably wouldn't even exist. And someday, when I'm not president... The New York Times and CNN and all of these phony media outlets will be out of business, folks."
The essay was called "pathetic, reckless, and selfish" by White House spokeswoman Sarah Sanders, who condemned the New York Times for publishing it. "Nearly 62 million people voted for President Donald J. Trump in 2016," said Sanders. "None of them voted for a gutless, anonymous source to the failing New York Times."
The White House's reaction to the piece echoed the administration's response to Woodward's book, which also portrays the US leader as an impulsive decision-maker, who is called an "idiot" and a "liar" even by those closest to him.
Trump has repeatedly called out the liberal US media critical of the administration for spreading fake, poorly sourced, and deliberately out-of-context information. Trump has also been challenging social media platforms over their alleged bias against conservative voices.
Think your friends would be interested? Share this story!