'Made up frauds'? Book claims Trump is called an 'idiot' by aides & wanted to 'f**king kill' Assad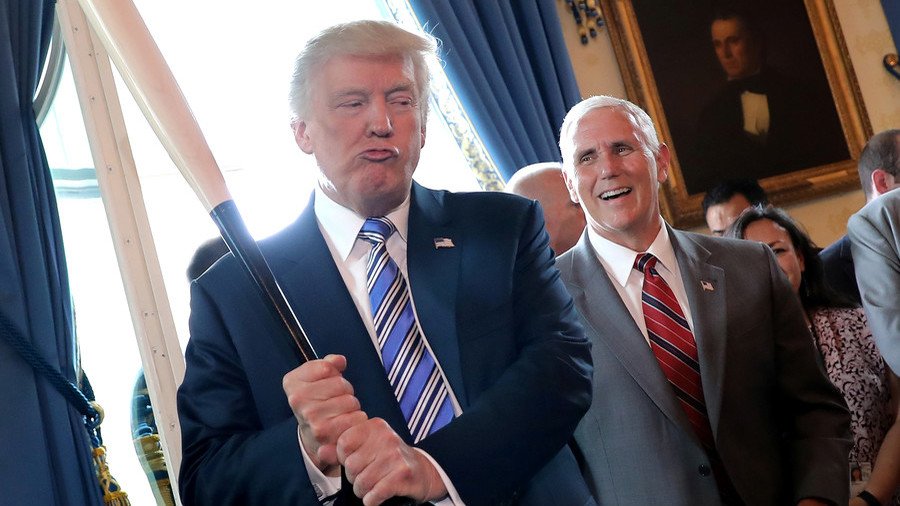 President Trump and those close to him have challenged the narrative of Bob Woodward's new book, which portrays him as "a 5th-grader" ready to make rash decisions, such as ordering the assassination of Assad.
"The Woodward book has already been refuted and discredited by General (Secretary of Defense) James Mattis and General (Chief of Staff) John Kelly," Trump tweeted on Tuesday afternoon, after excerpts from the book were published by the Washington Post and other publications. The manuscript, which is scheduled for release next week, contains many quotes that were "made up frauds," Trump said, calling the book's narrative "a con on the public."
The Woodward book has already been refuted and discredited by General (Secretary of Defense) James Mattis and General (Chief of Staff) John Kelly. Their quotes were made up frauds, a con on the public. Likewise other stories and quotes. Woodward is a Dem operative? Notice timing?

— Donald J. Trump (@realDonaldTrump) September 4, 2018
Rejecting the claims that senior aides have been plucking sensitive documents off his desk to prevent him from making rash decisions, Trump noted in an exclusive interview with the Daily Caller that the bulk of the stories in the book were just a compilation of "nasty stuff" totally "made up" by the famed Watergate Washington Post reporter.
'She's a lowlife!' Trump explodes over former aide Omarosa's claims of his 'racist' rants
Trump was not the only one to slam Woodward's claims, which present the US leader as an impulsive decision-maker, who is sometimes called an "idiot" and a "liar" even by those closest to him:
Trump ordered Mattis to 'f**king kill' Assad
One of the excerpts from the book claims the president ordered Secretary of Defense Jim Mattis to assassinate the Syrian leader following the 2017 Idlib chemical incident. "Let's f**king kill him! Let's go in. Let's kill the f**king lot of them," Trump allegedly told Mattis. "We're not going to do any of that. We're going to be much more measured," the defense secretary allegedly told one of his senior staffers after that.
Following the controversial claim, US Ambassador to the UN Nikki Haley denied that Trump ever planned to assassinate Assad. "I have not once ever heard the president talk about assassinating Assad," she told reporters at UN headquarters.
"Mr. Woodward never discussed or verified the alleged quotes included in his book with Secretary Mattis or anyone within the DOD," a Pentagon spokesman, Col. Rob Manning, added.
Mattis compared Trump to '5th or 6th grader'
Woodward claims that Trump once asked Mattis why the US backs South Korea militarily and financially, prompting the defense secretary to tell close associates afterward that Trump had the understanding of a fifth or sixth grader. "Secretaries of defense don't always get to choose the president they work for," Mattis allegedly said in another instance.
Mattis personally rejected the claim made in the book. "In serving in this administration, the idea that I would show contempt for the elected Commander-in-Chief, President Trump, or tolerate disrespect to the office of the President from within our Department of Defense, is a product of someone's rich imagination," he said.
Chief of Staff described Trump as an 'unhinged idiot'
"He's an idiot. It's pointless to try to convince him of anything. He's gone off the rails. We're in crazytown," Woodward quotes White House Chief of Staff John Kelly as saying at a staff meeting in his office. "I don't even know why any of us are here. This is the worst job I've ever had."
Kelly, however, has firmly denied the allegations, dismissing the chapter about him as "total BS."
Staff snatched documents from Trump's desk fearing he might sign them
Former Chief Economic Adviser Gary Cohn, according to Woodward, once saw a draft letter on the Oval Office desk that would have withdrawn the US from a trade agreement with South Korea. "I stole it off his desk," Cohn told an associate, allegedly terrified Trump might sign it. "I wouldn't let him see it. He's never going to see that document. Got to protect the country." Former staff secretary Rob Porter, who handled the flow of presidential papers, allegedly used similar tactics on several occasions.
However, according to White House Press Secretary Sarah Sanders, the entire book is nothing more than a bunch of "fabricated stories" told by "disgruntled" former employees to make the president "look bad."
Egypt's president wondered if Trump was 'going to be around' for long
According to Woodward, Egyptian President Abdel Fattah al-Sisi is one of the world leaders who was worried the infamous Mueller probe might eventually result in impeachment. "Donald, I'm worried about this investigation. Are you going to be around?" al-Sisi allegedly said. Trump supposedly later told his lawyer that the question was "like a kick in the nuts."
Amid the barrage of firm denials by Trump and his team, Woodward reiterated that he "stands by" his reporting and the book's contents.
Think your friends would be interested? Share this story!
You can share this story on social media: