Woof justice: Police dog tackles & bites car thief in epic takedown (VIDEO)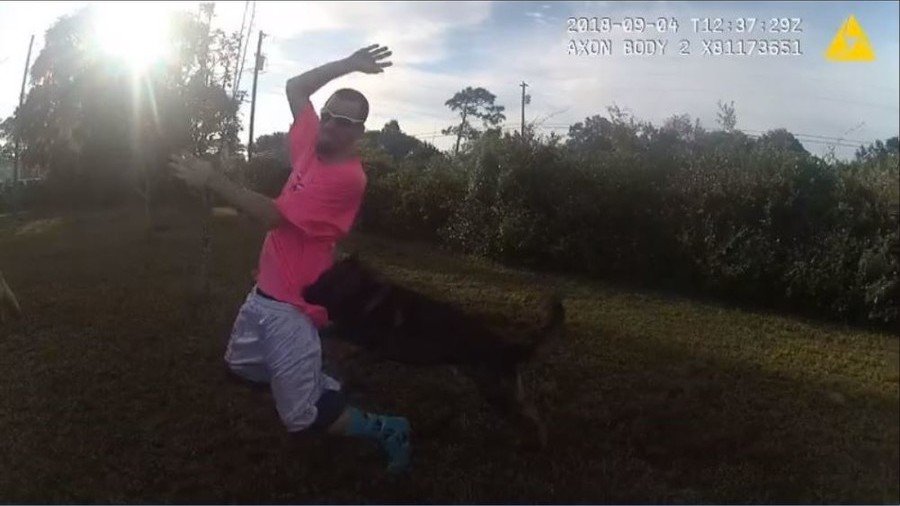 A police canine is being hailed a hero after it chased down and apprehended a man suspected of stealing a car and leading cops on a high speed chase through Florida.
Police body cam footage has been released showing how K9 officer Shep meted out 'woof justice' to the fleeing suspect, who had abandoned a child inside a vehicle thought to be stolen.
READ MORE: Slapstick stick-up: Would-be robber botches heist with spectacular fail (VIDEO)
The attempted escape on foot came after a high speed police chase. However, the man's bid to evade the cops was stopped in its infancy by what one might call the long fang of the law – shep's mandible and four-legged running power.
The police K9 was deployed by Pascoe Sheriff's deputy Nick Carmack after a traffic stop escalated and the suspected car robber fled on foot into a property. Footage of the subsequent arrest reveals how the police dog jumped a wire fence before sinking its teeth into the suspect's buttocks.
"K9 Shep held the individual until Deputy Carmack could place handcuffs on the individual, this was for Deputy Carmack's safety and to make sure the individual did not flee again," a Pasco Sheriff's Office statement read. Police say the suspect received medical attention and was then formally arrested.
Shep was later involved in the arrest of a second suspect. The two men have been charged with grand theft auto, criminal mischief and child neglect, because there was an infant in the vehicle during the high speed pursuit.
Like this story? Share it with a friend!
You can share this story on social media: