White supremacist conspiracy theory erupts over hand signal at Kavanaugh hearing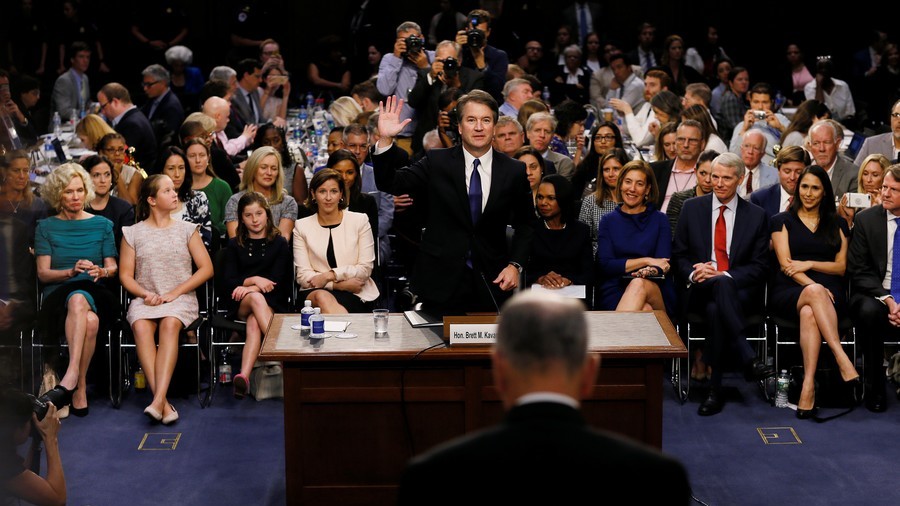 Tuesday's hearing for a Supreme Court nominee spawned an unexpected and explosive conspiracy theory – was Zina Bash, the wife of a US attorney, flashing a white power signal for the cameras?
Bash was enveloped by the bizarre race storm after appearing at a Senate confirmation hearing for Trump Supreme Court nominee Brett Kavanaugh. US Attorney John Bash fiercely defended his wife, calling accusations that she made a white power signal through her fingers "vicious and idiotic."
The bizarre theory arose from the way Bash appeared to rest her hand in an 'OK'-like sign while sitting behind her former employer Kavanaugh on Tuesday. The symbol has been associated with white supremacy on social media. However, the Anti-Defamation League disputes this and states the alternative meaning came from a 4chan hoax.
READ MORE: US Supreme Court: GOP likely to lock down majority as Rand Paul lends support to nominee Kavanaugh
Regardless, the bizarre theory surrounding Bash has gained traction online, with speculation rife that the attorney intended to flash a "white power" sign during the televised conference.
Many people have now moved to defend Bash for the way she rested her hand, with her husband leading the charge by highlighting his wife's Jewish and Mexican heritage.
"We weren't even familiar with the hateful symbol being attributed to her for the random way she rested her hand," he said. "I know that there are good folks on both sides of the political divide. I hope that people will clearly condemn this idiotic and sickening accusation."
If you like this story, share it with a friend!