Racist robocalls and Soros funding? Florida governor race turns dirty fast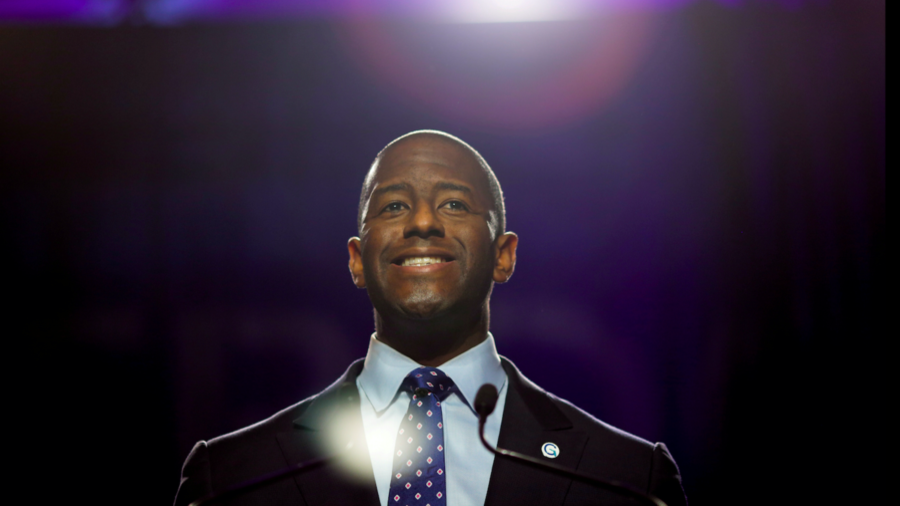 The hotly contested race for the Florida governor's mansion has turned nasty quickly, with one side accused of racism and the other taken to task over controversial financial donors, including the ubiquitous George Soros.
The high-profile race has been described as a litmus test for America, as it sees Andrew Gillum, a Bernie Sanders-backed Democrat go up against Rep. Ron DeSantis, an avowed Trump supporter and Trump-endorsed Republican.
Gillum has come under fire for comments made to NBC's 'Meet the Press' on Sunday, during which he thanked "everyday folks" for donating to his campaign — but also gave a special thank you to billionaires George Soros and Tom Steyer, two of the more controversial of his funders. "I'm obviously deeply appreciative of Mr. Soros, as well as Mr. Steyer, both men whom I've known for some time," Gillum told NBC.
Unlike some other progressive Democratic candidates standing for election in the November midterms, Gillum has not refused big money donations from the likes of Soros. In April, Gillum's campaign raised $450,000, but more than half of that came from the Hungarian-American billionaire through a Gillum-affiliated political action committee called Forward Florida, according to the Tampa Bay Times. Soros also made two six-figure donations to Gillum in 2017 and offered another large cash infusion during the final weeks of campaigning during the Democratic primary.
Despite the Soros money, Gillum had still been a dark horse in the race, polling in fourth place at around 16 percent weeks out from voting day. His win was a surprise to the Democratic establishment which was expecting a more moderate candidate to win the nomination.
Gillum has brushed off the notion that his campaign was being bankrolled by billionaires who wield undue influence over American politics, saying that his campaign was "propped up by a lot of small donations" including from his mother, who he said was "on auto-deduct of $20 a month into our campaign".
Gillum's opponent DeSantis, who currently represents Florida's 6th district, has little ability to criticize the mega-donor funding, however, since his campaign too has been bankrolled by billionaires including the conservative Richard Uihlein and his wife Elizabeth, who are some of the top Republican donors in the country.
DeSantis has also been accused of racism after recently warning Florida voters not to "monkey" things up by voting for Gillum, who is black. Gillum claimed the comment was a "dog whistle" to racists, but DeSantis denied any allegations of racism, saying that the comment had nothing to do with race.
Some have questioned that denial, however, pointing to the allegation that the congressman was until recently a moderator for a group on Facebook which regularly posted racist comments and memes. The DeSantis campaign claimed that the candidate did not know he was part of the group and that he never had any active role in moderating it, but his wife, Casey DeSantis was still a member of the group as of last week.
While it's possible DeSantis is sincere in his denial of racism, some unquestionable racists have indeed sought to target Gillum with an overtly racist robocall that has circulated around Florida and which refers to the Democrat as a "negro".
During the call, a narrator who claims to be Gillum speaks over background noise of drums and monkeys and tells the listener that Gillum will pass a law letting black people evade arrest "if the Negro know fo' sho' he didn't do nothin'" — among other racially charged statements.
At the end of the call, a voice says that it was funded by The Road to Power, an anti-Semitic and white supremacist website and podcast. Gillum's campaign has called the robocalls "reprehensible" and said they could only have come from someone "with intentions to fuel hatred and seek publicity". DeSantis' campaign also denounced the calls as "absolutely appalling and disgusting".
Any niceties ended there, however, with DeSantis accusing Gillum during a radio interview on Sunday, of planning to "turn Florida into Venezuela" with his left wing policies.
Gillum and DeSantis will face off against each other November.
You can share this story on social media: