Want to know about new FTC head's conflicts of interest? Too bad, that's redacted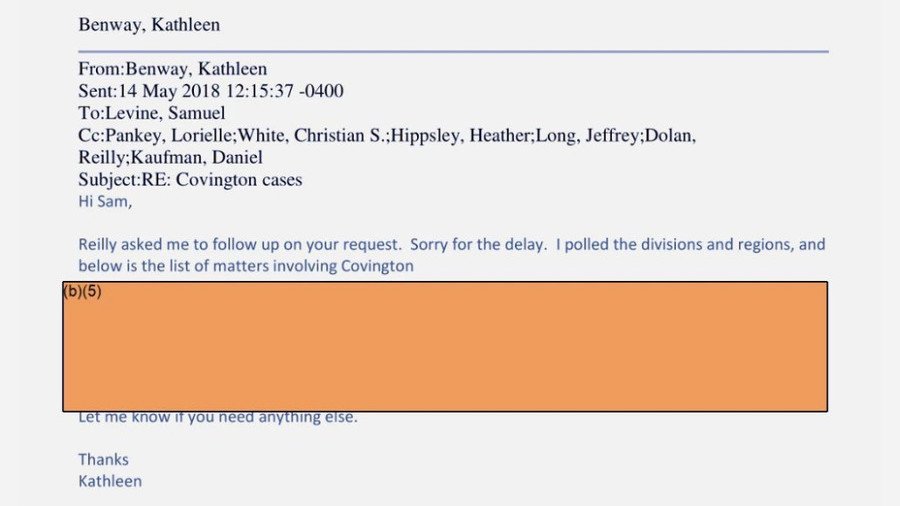 Corporate lawyer Andrew Smith's appointment to head the FTC's Bureau of Consumer protection raised some eyebrows earlier this summer. Now, a heavily redacted set of documents have done little to allay this concern.
According to his financial disclosure form, Smith provided legal services to a host of companies, including Uber, Amazon, JP Morgan, and the Dallas Cowboys. Several of these companies are currently under investigation by the Federal Trade Commission (FTC), including Equifax, the credit company that exposed the personal information of 145 million Americans in a data breach last year.
Among the 53 other companies listed on Smith's disclosure are "predatory" payday lenders Elevate Credit and MoneyKey, the latter of which was ordered to pay back more than $4 million to customers after it violated consumer finance laws in Virginia in 2015.
The long list of potential conflicts, which could see Smith forced to recuse himself from important cases, led liberal consumer rights watchdog Public Citizen to file a Freedom of Information Act request. The group wanted to know where Smith's conflicts lay, and what the FTC was going to do to prevent him from backing his former clients instead of the ordinary consumer.
The response revealed nothing. The FTC returned almost 500 pages, nearly all of which were blank or heavily redacted.
"This raises additional questions about whether Smith is truly working to protect consumers or simply carrying water for his corporate friends," said Public Citizen's Remington A. Gregg. "The public deserves more than hollow promises of transparency."
A raft of emails contained within the FOIA request reveal only Smith's email headers and footers, and those of several other FTC bureaucrats. Almost everything else is blocked out and unreadable. A copy of an executive order on ethics from President Trump, and a copy of a letter from Senator Elizabeth Warren (D-Massachusetts) warning the agency against Smith's appointment were also included in the stash.
"Mr. Smith is well known in Washington for his representation of Equifax, Facebook, Uber, and other companies that have been accused of some of the worst abuses of consumers," read the letter from Warren to FTC Chairman Joseph Simmons. Smith's record, Warren wrote, "leaves him unfit and unable to function as the FTC's top consumer advocate."
The FTC was well within its rights to redact the documents, no matter how suspect the move appeared. FOIA exemptions allow the agency to withhold information that would not be available to anyone save for in a court case. Exemptions also allow the agency to redact anything they would consider trade secrets or confidential financial information.
That a former corporate lawyer would be chosen to lead the US' top consumer protection organization might sound bizarre, but Smith's appointment is par for the course in Washington. Andrew Wheeler, the current acting Administrator of the Environmental Protection Agency, is a former coal industry lobbyist who fought the Obama administration's climate regulations on power plants, while his predecessor, Scott Pruitt, was an advocate against environmental regulations before heading the agency.
Like this story? Share it with a friend!
You can share this story on social media: