Why Donald Trump's trade war with China is sure to fail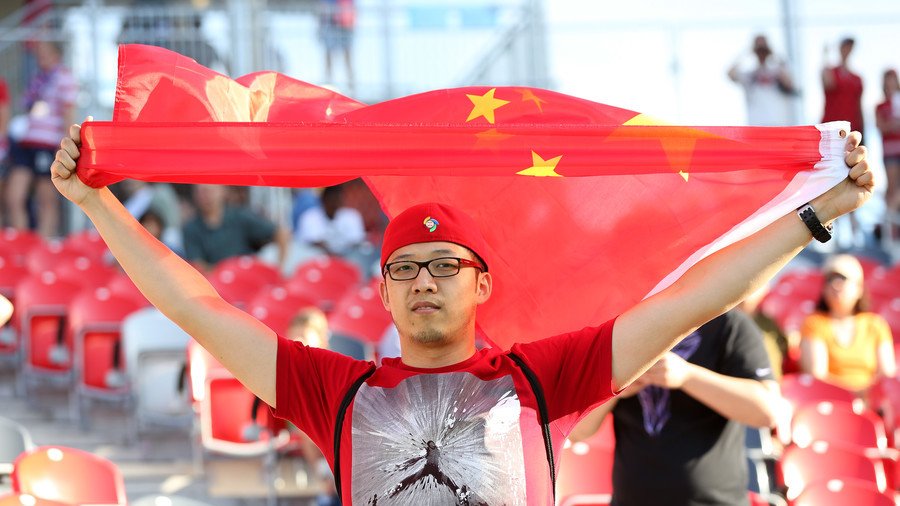 The woes and risks of Donald Trump's ill-advised trade war are fast becoming a reality, endorsed even by the corporate media.
Trump wants to play hardball with China. On Monday, the US president said that now "was not the right time to talk" to China about the ongoing and escalating trade war currently taking place between the two economic powers, just after negotiations between the two countries ended without any meaningful resolutions.
"It's just not the right time to talk right now, to be honest with China," Trump reportedly said.
"It's too one-sided for too many years and too many decades, and so it's not the right time to talk. But eventually, I'm sure that we'll be able to work out a deal with China."
Now is not the time to talk to China, apparently, but it is the time to talk to Mexico, the country Trump accused of sending rapists, criminals and drug dealers into the US, while ordering it to fund his $70 billion wall in the process.
Despite Trump's staunch anti-Chinese rhetoric, senior administration officials appeared to indicate that the US would be open to further negotiations with China, which in turn was welcomed by the Chinese government. There was some short-lived hope for a resolution process last week as a Chinese delegation, led by China's vice-minister of commerce Wang Shouwen played their hand at low-level talks in Washington, hosted by the US Treasury's Under Secretary for international affairs David Malpass.
However, these talks were mostly doomed to fail from the outset, given Trump's active hostility towards China; considering also the previous negotiations held in May and June this year. Even so, a statement from China's Commerce Ministry remained hopeful, saying that the two countries had "constructive and frank exchanges" and would continue to "keep in touch about next steps."
So, what's behind this trade war policy adopted by the US, and where will it lead us in the long run?
The short answer to this question is that Trump's trade war will backfire on too many levels against the US. This is not just the ramblings of an anti-Trump, anti-US, foreign policy writer, this is fast becoming a mainstream view.
US firms have more than $220 billion invested in China, according to the American Chamber of Commerce in the People's Republic of China (AmCham China). China has no choice but to hit back at the US and punish American companies for the war that their country's president has kicked off. In June this year, Chinese president Xi Jinping reportedly warned that Beijing would retaliate. "In the West you have the notion that if somebody hits you on the left cheek, you turn the other cheek. In our culture we punch back," the Chinese leader was quoted as saying.
Last month, the Trump administration put into effect a 25 percent tariff on $34 billion worth of Chinese goods, which has – lo and behold – been met in turn by China's 25 percent levy on $34 billion worth of US-made products. Supposedly, China's reciprocity is set to target 545 US products worth this latter amount, including soybeans, whiskey, orange juice, electric cars, salmon and cigars. Renegotiating NAFTA has already raised a strong level of uncertainty for these US businesses, and China's efforts to hit back will only impact upon American companies harder.
China has also already begun implementing what it warned would be "qualitative measures" which are completely disrupting US manufacturers and exporters. One such example is that, according to the Washington Post, one US exporter of vehicles to China recorded a 98 percent increase in random border inspections over the past month, which noticeably interrupted the company's export schedule.
No one seems to have considered that China may be able to weather the storm a little bit better than the US will. This may in part be due to the weakening yuan, which entails that the effects of the tariffs might not be as strong as Trump himself may have initially predicted.
According to the July reading of the Chinese government's purchasing managers index (PMI), China did not see a sharp drop-off in exports, which appeared to hold reasonably steady.
In case you need this spelling out for you, consider this brief passage from Quartz: "The yuan makes Chinese exports to the US relatively cheaper, dampening the effects of US tariffs. And for Chinese businesses and consumers, a weaker yuan makes imports of American goods even more expensive—amplifying the impact of China's retaliatory tariffs."
If the yuan continues this trend, it will require China to buy less US goods in order to sustain itself, while there is no indication that the US will buy less Chinese goods since the tariffs came into effect.
Peking University professor Michael Pettis has argued that Trump's trade war will in fact not slow down the Chinese economy on any meaningful level because the Chinese government will provide a fiscal stimulus to cancel out the fall in exports to the US. Pettis believes that no matter how severe, Chinese GDP will remain unaffected by Trump's trade war because the Chinese government will do whatever is necessary to meet its growth targets.
That is some amazing 4-D Chess; or perhaps Trump is simply a moron.
The other thing to keep in mind that not many commentators appear to be taking into account, is the fact that China is not simply rolling over and firing back at the US through a tit-for-tat tariff policy, but is actively looking at ways to outmanoeuvre the US in the long term.
For example, in the last few months reports began emerging that Chinese money production plants are running at nearly full capacity in order to meet an unusually high quota set by the government, with only a small proportion of the orders being for Chinese yuan bills. That's right; the China Banknote Printing and Minting Corporation, arguably the world's largest money printer, is printing money for several countries, including Nepal, Thailand, Bangladesh, Sri Lanka, Malaysia, India, Brazil and Poland. According to one source in the corporation, the actual number of countries that plan to outsource currency printing to China could be even higher. One thing that these countries will mostly have in common is a desire or indication that they will take part in China's monumental Silk and Road Project, a looming economic headache for the US.
In and of itself, this money-printing project will not cripple the US or pose any immediate harm to the American economy. But it could be part of an overall game-changing strategy in the long run. Consider that when NATO powers wanted to overthrow Muammar Gaddafi in 2011, the British government seized nearly $1.5 billion USD worth of dinars printed by British banknote manufacturer De La Rue, which put added strain on the Gaddafi leadership before its inevitable downfall.
Allowing China to print money therefore requires a strong degree of trust, and is also reportedly saving these countries millions of dollars a year. While China is printing vast amounts of money for other notable US allies across the globe, it is fast-moving towards a cashless society domestically speaking, which may end up doing miracles for China's fiscal revenues in the long term.
The other thing to note is that the prevalent and ill-informed idea that China's economic growth is on the downturn and may force China to tap out of Trump's trade war may very well be, at least according to the Peterson Institute for International Economics in Washington, pretty much false.
"The conventional wisdom that fixed asset investment in China is slowing dramatically is based on faulty data, and there is no sound empirical evidence that consumption in China is weakening," Nicholas Lardy, an expert at the US think tank recently wrote.
READ MORE: Is China secretly building up its huge gold stockpile?
This is crucial because it is this complete misperception that China's economy is in a battered, bedridden condition that has empowered Donald Trump to escalate the current standoff and state that now is "not the right time to talk" to one of the world's major nuclear powers. This mundane line of thinking fails to take into account China's inability to fall inside the world's "typical classifications," as Yukon Huang of the Carnegie Endowment think tank so aptly put it.
"China's financial and fiscal metrics simply do not point to a looming 'Lehman moment,' despite all the periodic warnings to the contrary," Huang has argued. "China's debt problem differs from previous crisis cases in that its debt is concentrated in the state sector rather than among private agents, and sourced domestically rather than externally. China's current challenges may be more complex, but the financial situation in the late 1990s was more severe, and even then the difficulties proved manageable."
China doesn't follow the rules of the other world economies. As long as China has debt capacity, and assuming the government has no problem activating it, Trump's trade war may not have the intended effect on China's economy.
This is not to say that Trump's war with China will not have adverse impacts on the Chinese economy; quite the contrary. However, overstating the effects of this strategy and empowering Trump's hawkish position, while assuming that China does not have some dangerous tricks of its own up its sleeve as well as a backup plan, will have an equally adverse effect on the United States somewhere down the track. Perhaps that is the point all along, anyway.
Like this story? Share it with a friend!
The statements, views and opinions expressed in this column are solely those of the author and do not necessarily represent those of RT.
You can share this story on social media: