US strips Pakistan of $300mn in anti-terrorism aid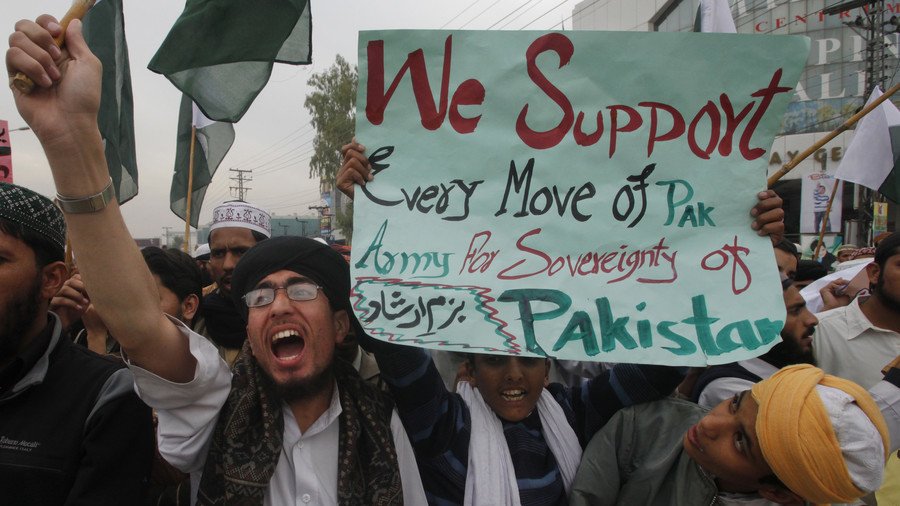 The Pentagon has recalled $300 million of aid earmarked to support Pakistan's anti-terrorism efforts, accusing Islamabad of going soft on extremists and providing them with safe havens, Reuters reports.
"Due to a lack of Pakistani decisive actions in support of the South Asia Strategy, the remaining $300 [million] was reprogrammed," Pentagon spokesman Lieutenant Colonel Kone Faulkner said, as cited by Reuters.
The funds were earlier frozen as part of the review initiated by US President Donald Trump that should have determined whether Pakistan is showing enough resilience against the insurgents to be worthy of American assistance.
Falkner pointed out that the cancellation of the aid package, which was part of the so-called Coalition Support Funds (CSF), is not the first that the Trump administration has pushed through. Earlier, US lawmakers moved to cancel another $500 million in CSF aid to Pakistan, meaning the country will be short a total of $800 million in earmarked aid.
This is in addition to the suspension of $255 million in foreign military financing (FMF) to Pakistan, which was initially authorized by the State Department in August last year.
By curtailing a total of over a billion dollars of assistance to Pakistan, Washington is following through on Trump's pledge to minimize financial contributions to the country, which he accused of shielding terrorists.
In an emotionally charged tweet marking the beginning of the new year, Trump lamented that the US "has foolishly given Pakistan more than 33 billion dollars in aid over the last 15 years and they have given us nothing but lies & deceit." The US leader then accused Islamabad of giving refuge to terrorists that flee from Afghanistan.
The United States has foolishly given Pakistan more than 33 billion dollars in aid over the last 15 years, and they have given us nothing but lies & deceit, thinking of our leaders as fools. They give safe haven to the terrorists we hunt in Afghanistan, with little help. No more!

— Donald J. Trump (@realDonaldTrump) January 1, 2018
The January broadside by Trump was met with indignation in Pakistan, its government rejecting the allegations and threatening to cease cooperation altogether. "We do not have any alliance. This is not how allies behave," Pakistan's Foreign Minister Khawaja Asif said at the time.
While Trump might have declared open season on Pakistan, ordering a freeze on most of the security assistance to the country, the US has long been complaining about Islamabad's misbehavior, and cutting funding. The Obama administration scaled aid back from $2.177 billion allocated in 2014 to $1.118 billion in 2016.
The release of the CSF package is conditional to Pakistan's logistical support of the US-led military operation in the region, primarily against the Afghan Taliban and its affiliate Haqqani network, a Sunni Islamist group that is believed to enjoy support from some elements within Pakistan's security forces.
The move comes ahead of a visit by US Secretary of State Mike Pompeo to Pakistan on September 5, when he is expected to underscore the need to fight externally oriented terrorists in his meeting with new Pakistani Prime Minister Imran Khan.
Khan has been known as a staunch opponent of the US, criticizing Washington for linking foreign aid to Pakistan's cooperation in the fight against insurgents. He has been compared to Trump for his non-political background and authoritarian inclinations, and once vowed to shoot down US drones flying over Pakistani territory.
Khan has recently hinted at rapprochement with India, however, offering a dialogue on the most pressing issues, such as the territorial dispute over Kashmir.
With Pakistan's relationship with the US seemingly souring, Russia has shown an interest in stepping up cooperation with the new government. Last month, Russia and Pakistan signed a rare agreement that allows Pakistani troops to train at Russian facilities.
You can share this story on social media: