'Sexist' room temperature? Cynthia Nixon team wants to debate Cuomo in warm room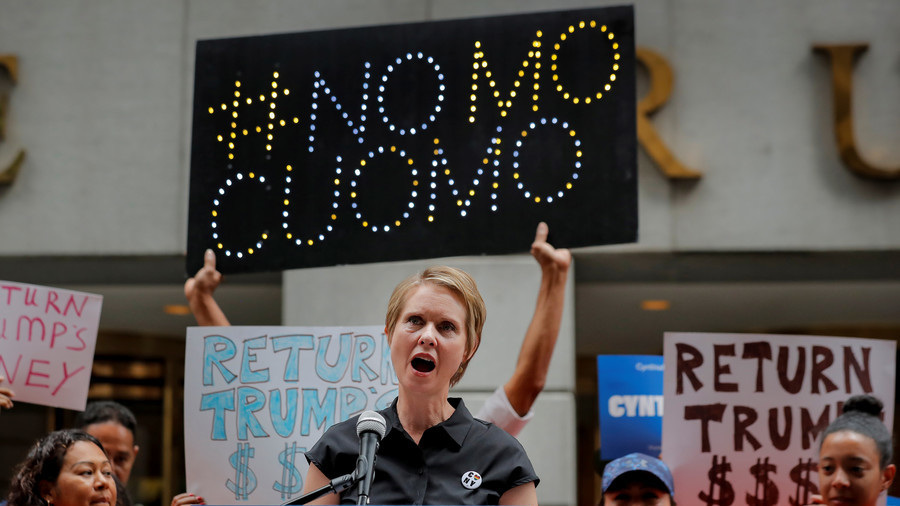 New York gubernatorial candidate Cynthia Nixon has reportedly asked that the room be kept at certain temperature during a debate with incumbent Democrat Governor Andrew Cuomo, suggesting that the alternative might be 'sexist'.
The former Sex and the City star will take on Cuomo in their first and only head-to-head debate on Wednesday — but in an email to CBS affiliate WCBS-TV last week, an aide for Nixon requested that temperature in the debate hall is set to 76 degrees F (24 C) because working conditions are "notoriously sexist when it comes to room temperature," the New York Times reported.
Wait, what? Well, it might not be as strange as it sounds.
Cuomo is apparently well-known for his love of working in icy room temperatures, leaving audience members at one of his previous speeches having to wrap up in hats and scarves.
Nixon's team has accused debate host WCBS-TV of only catering to Cuomo's demands in order to convince him to appear — something he seemingly wasn't entirely enthused about. According to Nixon aide Rebecca Katz, CBS were "very frank" in admitting that if they didn't accede to Cuomo's list of requests for the debate "he wouldn't show up".
Katz told the Times that she had not yet had a response from the channel and confirmed that 76 degrees was not an ultimatum, but a suggestion to ensure the temperatures were not too frosty. Cuomo's campaign said it did not know what the temperature would be and accused the Nixon campaign of thriving "on paranoia and melodrama" while Cuomo is "focused on having a substantive, in-depth discussion about the issues facing New York".
Not too in-depth, however. Nixon has challenged Cuomo to multiple debates, but the Democratic incumbent has agreed to only one, which is scheduled to last just one hour, during which the candidates will be seated instead of standing, and which will not include any pleasantries like opening statements or handshakes.
"We were finally given the opportunity to debate but only by his rules, including no handshake," Katz said.
READ MORE: 'Career over!' Trump raps Gov. Cuomo over 'greatness' gaffe, compares it to Clinton's 'deplorables'
Nixon has aligned herself with the more progressive Bernie Sanders wing of the Democratic party, challenging Cuomo from the left with an anti-establishment message. In June, she endorsed Alexandria Ocasio-Cortez, the 28-year-old self-described democratic-socialist who won an upset primary victory against ten-term Democratic incumbent Joe Crowley in June.
Think your friends would be interested? Share this story!