Actress and potential NY governor Cynthia Nixon launches petition to abolish ICE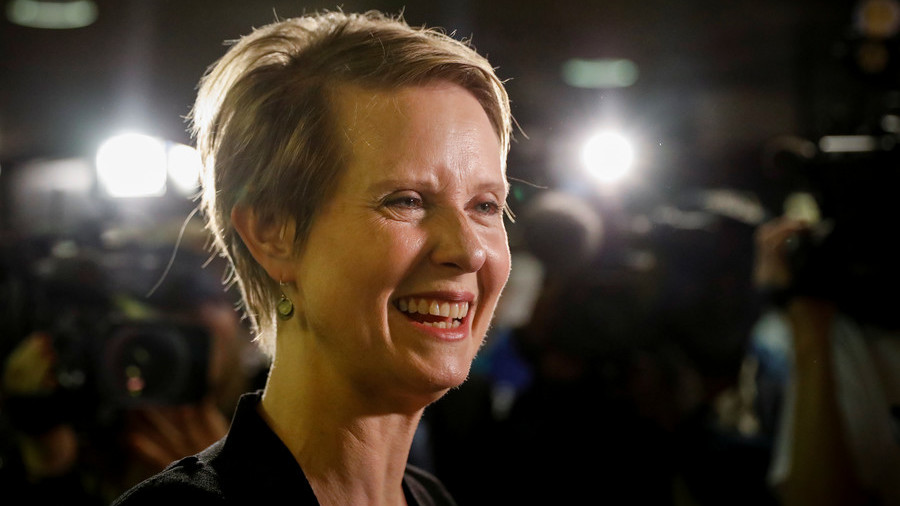 Former actress and left-wing New York gubernatorial candidate Cynthia Nixon has launched a Change.org petition calling for the abolition of Immigration and Customs Enforcement (ICE).
"When children are torn from their parents' arms, something is deeply broken in our country," reads the former 'Sex and the City' star's petition, referencing the 2,400 children of illegal immigrants separated from their parents and detained under the Trump administration's 'zero tolerance' immigration policy.
"ICE has dramatically strayed from its mission. It is deporting an increasing number of women, children, and asylum seekers with no criminal record back to countries where their lives are at risk, tearing apart their families," the petition continues. Nixon then calls for ICE to be abolished and replaced with an agency dedicated to helping immigrants find asylum and citizenship.
As of Tuesday morning, Nixon's petition has attracted just under 17,000 signatures in less than a day.
Formed in 2003 with the merger of two existing agencies, ICE's mission is simply to enforce federal laws governing border control, customs, trade, and immigration. As illegal immigration is a crime, ICE is charged with identifying and apprehending illegal immigrants. Families apprehended by ICE were separated, as minors cannot be held in adult jails with their parents.
Despite its well established mission, 'Abolish ICE' has become a rallying cry for Trump's opponents on the left. 2020 presidential hopefuls Sen. Kirsten Gillibrand (D-New York) and Sen. Elizabeth Warren (D-Massachusetts) have called for the agency's abolition, as have former New York Mayor Bill de Blasio and former Obama Homeland Security Secretary Jeh Johnson.
So too has Alexandria Ocasio-Cortez, a 28-year-old Democratic Socialist who ousted 10-term incumbent Joseph Crowley in New York's Democratic primary last month. In an interview given to CNN after her victory, Cortez incorrectly described ICE as an "extrajudicial" organization that runs "black sites at our border."
Nixon already aligned herself with this new, progressive wing of the Democratic Party. Last month, she called ICE a "terrorist organization," under the "egomaniacal" leadership of President Trump.
The White House shot back at Nixon on Monday, with a spokesperson saying: "It's deeply disturbing that Cynthia Nixon has no clue of what ICE does to protect Americans and New Yorkers every day from dangerous criminals, terrorists, child smugglers and human traffickers."
Vice President Mike Pence vowed on Friday that the Trump administration would never abolish ICE.
Two months out from New York's Democratic primary for governor, Nixon is trailing two-term incumbent Andrew Cuomo by 35 points. Apart from abolishing ICE, she is campaigning on a platform of reducing the influence of money in politics, securing abortion rights, legalizing marijuana, and fixing New York City's aging subway system.
If you like this story, share it with a friend!