Warding off witchcraft? Pastor calls for prayers to protect Trump from occult (VIDEO)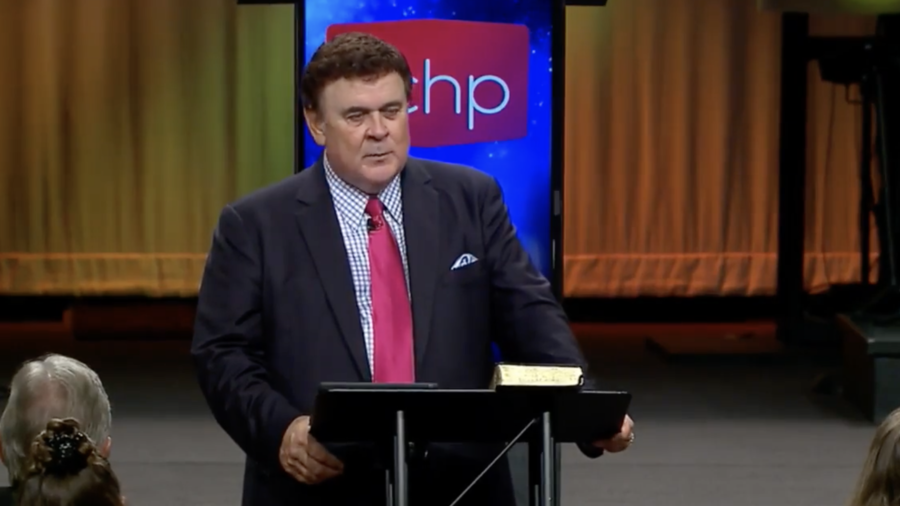 An Alabama pastor has urged his congregation to pray for Donald Trump to ward off impending "witchcraft" which is allegedly threatening his presidency.
During his sermon at the Church of His Presence in Daphne, Alabama, Pastor John A. Kilpatrick told churchgoers that witchcraft is trying to take over the country, as he led his congregants in prayers to strengthen Trump against black magic's onslaught.
"I don't know if you're going to believe me when I tell you this, but what's happening right now in America is witchcraft is trying to take this country over," Kilpatrick said. A 14-minute clip of his sermon has been viewed almost 800,000 times since it was shared on Facebook on August 20. The pastor insisted he's "not being political" with his warning.
Kilpatrick said he doesn't understand how Trump bears the current situation and went on to speak in tongues before leading his congregants in prayers for the president.
"Make him stronger than ever, Holy Spirit," said Kilpatrick. "Lord, let no weapon be formed against him that will knock him out of power. Help him, Lord."
READ MORE: Trump forced to talk about Russia in negative terms, 'deep state' is to blame – Senator Black to RT
The pastor also predicted an upcoming battle between Trump and "the deep state," saying there's "going to be a showdown like you can't believe."
"I'm coming to you as a prophet, as a man of God, and I'm telling you it's time to pray for the president," Kilpatrick warned his congregants.
NO COLLUSION - RIGGED WITCH HUNT!

— Donald J. Trump (@realDonaldTrump) August 23, 2018
It's possible the pastor was inspired by the president's repeated criticism of the Robert Mueller probe as a "witchhunt." Trump has also previously referred to the "deep state" on Twitter, and posted messages claiming that some members of his own government are working against him.
....Where is the DNC Server, and why didn't the FBI take possession of it? Deep State?

— Donald J. Trump (@realDonaldTrump) July 14, 2018
The House of Representatives seeks contempt citations(?) against the JusticeDepartment and the FBI for withholding key documents and an FBI witness which could shed light on surveillance of associates of Donald Trump. Big stuff. Deep State. Give this information NOW! @FoxNews

— Donald J. Trump (@realDonaldTrump) November 30, 2017
Kilpatrick, a self-described Trump voter, later clarified his comments by saying he wasn't referring to any particular witch, but rather a wider witchcraft movement.
"It's not a witch after him, it's a spirit of witchcraft trying to muzzle him," Kilpatrick told AL.com.
Like this story? Share it with a friend!
You can share this story on social media: